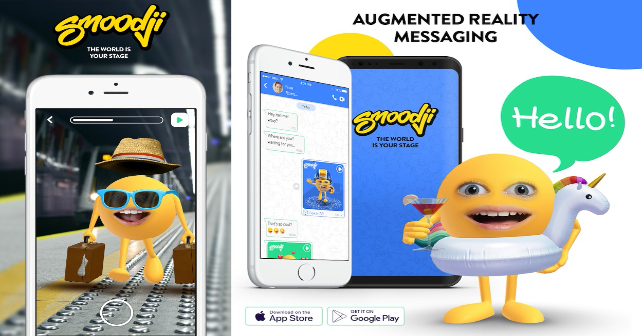 AWESOME ANIMATED 3D EMOJIS
The smoodjis are themed to cover the majority of our daily life and beyond. We are constantly adding new characters in order to provide new outstanding experiences.
CUSTOMIZE & RECORD EASILY
Once you choose your Smoodji, record a message with your own voice and facial expression and place it anywhere around you in the real world, in any size. Set it on your desk, in the street or even the palm of your hand and then record an AR video.
SHARE YOUR EXPERIENCE
Share your awesome videos on any network or send interactive AR messages directly to your friends.
FULL FEATURE INSTANT MESSAGING
Also a real-time messaging platform, smoodji enables you to chat, send videos, pictures, audio messages, and much more!
How to use the app:
Choose your 3D emoji from our rich library

Embed your eyes, mouth, and voice to create personalized 3D Emojis called a "Smoodjis"

Record your message

Place the smoodji anywhere in the real world, record and share unique videos

Send it to your friends as a live, interactive AR message

You can also chat and share regular media with your friends
Smoodji's features:
– Over 80 differents smoodjis
– Available in 6 languages
– Record your AR message with your own voice and facial expression
– Add funny voice effects
– Place in AR and capture a video to share across any social network
– Send Live Smoodji that your friends can interact with AR and place in their environment
– Real-time messaging
– Send videos and pictures
– Standard audio messaging
– Full support for ios devices
Price: $ Free