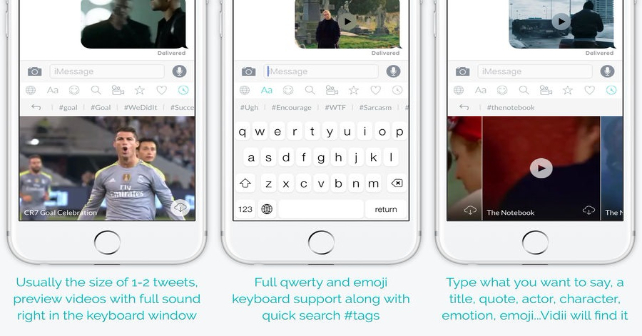 Most of the time, we make do with emojis when expressing our emotions and reactions while chatting. However, there are undoubtedly a lot of times when you wish you could instantly share a very popular snippet or clip from a movie or any other popular media that can be rendered in its complete audio and video. In most messaging platforms, this is practically impossible. But then came Vidii Keyboard.
The app itself is fairly easy to get the hang of since you install it as a keyboard app. It integrates conveniently into your iOS device, not requiring its own interface to access its features. That being said, you can expect it to work for any kind of messaging platform you are currently using at the moment.
The ultimate highlight of the app is its ability to help users share short video clips of actual footage from any type of video, movie, or TV Show that they have. Dubbed as vidicons, these pack a better punch than emojis simply because they depict the actual video complete with accompanying audio (thus, helping you establish the authenticity of what you are trying to say based on the current flow of your conversation). This characteristic alone makes them a step ahead of animated gifs and other forms of emojis.
Sharing vidicons is also undoubtedly a better way to get what you're trying to say across to the person you are chatting with, eliminating the need to explain it to him in the text. Not only does this save you plenty of time, but it also fits itself nicely into how quickly people want to express themselves through media via chat. What's even better is the fact that a lot of vidicons are rendered in very high quality and high definition forms. Once shared, the recipient and sender need only to press the Play button to play the vidicon. You may even add hashtags to them for easier reference.
The app offers plenty of vidicons enough already, but know that you can also upload your own by using vidii.co website or the Vidii Messenger app. Another amazing feature is the app's search function that lets users get to the vidicon that they mean to share almost instantaneously. You can do this, as said above, by typing the title, character, quote, actor, etc. from any kind of popular media, so you can easily narrow down your search for the right vidicon.
The app is not all about just short clips, though, for it actually even allows you stream full-length movies and shows because it actually lets you discover new movies and shows, thanks to its aforementioned nifty search feature explained above.
As should already be apparent, Vidii is not just an average keyboard app. It centers on vidicons, which are truly innovative and a novelty at present, making the app virtually unique. This is ultimately what makes it different from other keyboard apps that you can download and use for iOS.
Price: Free