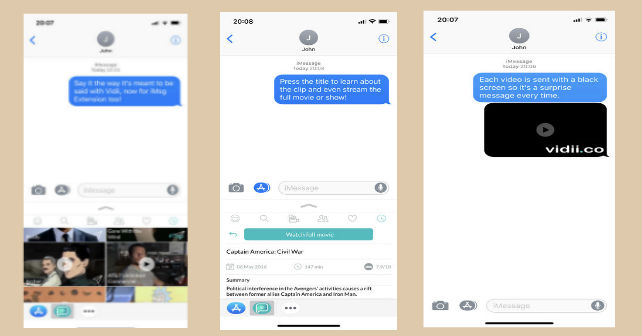 The concept behind Vidii – iMessage Video Sharing
Regular iMessaging is no doubt effective however Vidii seeks to bridge the gap between a functional platform and a simply delightful space that gives you all the memes and other messaging tools that perfectly sum up the exact message you intend to convey. It quickly ransacks the vast reaches of the interwebs to instantly bring you the aforementioned features-including short clips of classic movie dialogues- literally to your fingertips. In a nutshell, Vidii seeks to spice up your normal iMessage texting platform by adding an injection of fun and detailed imagery.
Features of the app
Vidii is capable of performing a host of functionalities and its features include:
Simple to use: Essentially, Vidii is an adept search engine covered up by an intuitive interface that makes navigation and overall use fast and conveniently easy.

Gateway to discovering new movies: When you key in and press the title of a movie, you are presented with a brief summary of the plot alongside other important details. Furthermore, there is a one-touch link atop that'll you send straight to watch the whole movie if you so desire.

Hidden delivery concept: If you're sending a video to someone, the recipient sees the image as a black video until played so you don't have to worry about ruining surprises

Integrates into your iMessage keyboard: To ensure instant access to whatever file you're looking for, Vidii attaches to your keyboard providing search results right alongside the interface within.
How it works
Of course, the first step is to head on over to Apple store and initiate the download process which should take just a minute given the app is only 6.3 MB in size. Once installed, you are good to go. Just switch to iMessage as you would normally and you'll notice the extension is already embedded into your default keyboard. You can then type a word describing what you're looking for- could be an actor, memes, emojis, etc- then choose the appropriate option from the suggestion list that pops up. Finally, hit send to deliver the message.
Why Vidii is a cut above the competition
While Vidii is certainly not the first iMessage extension app to provide services of this kind, it gets the job done in a way that simply no other app can. With an immense library of short video clips, memes, emojis, you name them, and an ingenious architecture that makes for easy and fun typing, Vidii is simply heads and shoulders above the rest.
Price: $ Free