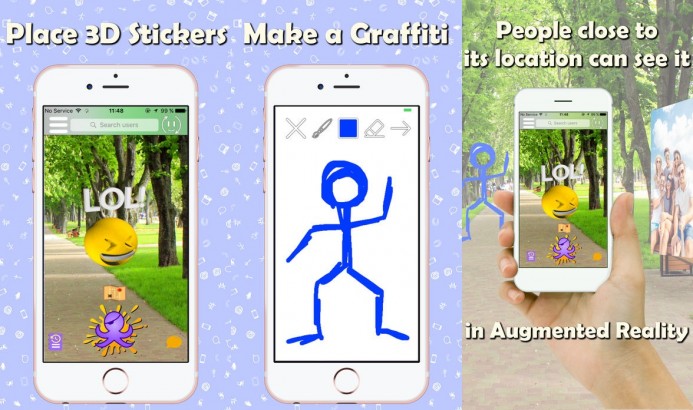 Augmented reality will always be able to offer its own unique experience as it allows us to view the world in a completely different way. There's no better example of this than what Splasher! is able to do. Think of the app as a magical tool that will let you see art and graffiti that would have been invisible otherwise. That's the kind of almost fantastical experience you can get from the app, making it a thoroughly original app that demonstrates the inimitable possibilities you can get with virtual reality.
The app's main interface serves as a special window through which you can view the art that other people have created using the app. With Splasher!, you can exercise your creativity to the fullest as well as it encourages users to draw their own graffiti.
And that's where part of the entertainment that the app provides hinges on. You can, for instance, go hunting for other people's arts or leave your own for others to find like buried treasure. That being said, the app even provides you with a treasure map of sorts, which basically displays the area nearby and beyond where other splashes, 3D landmarks, and billboards are found. The app is able to deliver all this by seamlessly combining GPS and AR technology.
Take note that you have the freedom to set your graffiti as private or public, though. Another wow-factor are the animated 3D stickers you can choose to accompany your created graffiti. Watch your favorite stickers come to life in augmented reality, and what's even better is that you can even attach texts to them.
The icing on the cake is that you also have the option to place your own photos and selfies. It also fosters better social interaction as it allows you to chat with other people who share the same interests with you. Much like other social networks, you are free to like to others people's splashes and wake every day to discover that your friends and other people are also liking yours.
The amount of freedom that the app gives in expressing yourself through art is astounding, to say the least. Splasher!, with its highly technical use of augmented to focus on spreading art around the world, has no equal as of this writing. However, it's not just because of the technology it uses that the app is able to set itself apart. Rather, its uniqueness lies in its advocacy of creating a hidden world where there are fresh virtual gems to waiting to be discovered by people who want and know where to look.
Price: Free