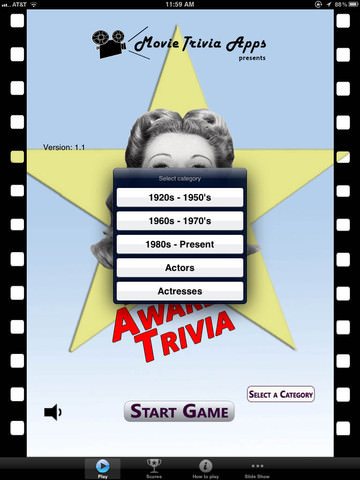 Movie Awards Trivia is an informative and entertaining iPhone app which provides users with an in-depth history of the Oscars.  If you are a movie freak or a trivia buff or both, this app will be of great use to test yourself or stump your friends with a plethora of questions based on the Academy Awards.
Movie Awards Trivia covers every Academy Award winner and nominee in the acting and Best Picture categories since 1929. It is packed with 1000 multiple choice questions and 4000 high-quality images from film history that make learning fun.
There is an option to select questions by decade, actor or actress. The questions are split into groups of 20 and each question comes with 4 options. A question can have 1, 2, 3 or even 4 correct answers. You have 21 seconds to answer a question. Remember, as the clock ticks away, your chances of scoring the maximum points go down. However, there is no negative marking.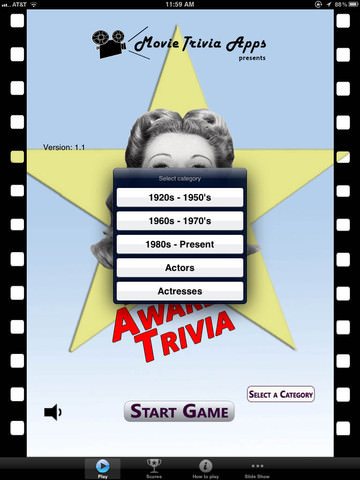 Keep your mind alert and fingers ready to get into action. Press the 'ANSWER' button soon after you have selected the answers, to stop the clock. If your answer is completely right and if you answer a question within 11 seconds, you get a score of 100 points, which is the highest score possible for a question. To take a closer look at the pictures, you can click on the magnifier icon and once you are done, you can move on to the next question.
Your score for the last question is displayed at the bottom of the screen and the total score for the game is displayed on the top in the left side. The highest scores for all the games you've completed appear on the screen when a game is over. You can invite your friends for a trivia challenge by sharing questions from the app on Facebook and through email. There is also an option to view the images at leisure in the slide show mode.
Movie Awards Trivia guarantees oodles of fun while you test your knowledge of Academy Award trivia, rack up points and prove your passion for movies. It is available for a limited time at the special price of just $0.99 USD. Download Movie Awards Trivia to relive your favorite movie memories in Oscar history.