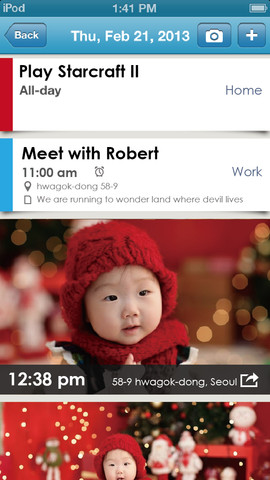 Everybody loves to take photos and such items are not only memorable, but useful in a lot of ways. When you have to keep yourself reminded about something that's loomed to happen, photos make an ideal reminder. Perhaps you can make a calendar with photos denoting the appointments that you're scheduled to attend and special occasions that must be prepared for. While keeping a tightly busy and hectic schedule can be relatively daunting, PhotoCal with Event will be at your, or in your iPhone, that is, to keep you well resonated on the loop.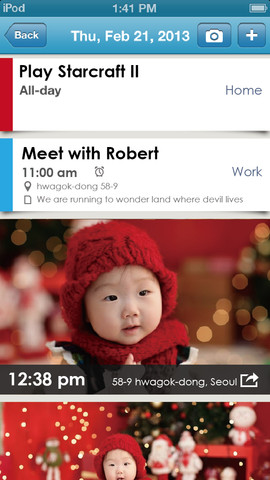 The Conception of PhotoCal
YunaSoft, the creator of the app, has thought of the app thoroughly and had it polished to its best possible form. The main goal of its creation is to set out a unique way to display a person's schedule of events, by way of utilizing a photo calendar. Essentially, the images are sorted in a chronological order to know make you fully aware of what's urgent, who's birthday will be happening in the next couple days or anything that can be considered significant to the long haul of your months.
Features to Love About the App
With the stack of photos you've got in your iPhone, are you having a hard time spotting your favorite photo from the farewell party of a friend? In that case, PhotoCal can take care of that. With the app, one of the best features you can relish would be the arrangement of the images – they are displayed according to the times and dates they have been taken. You can have a clear view of your events through the monthly calendar view and fully keep track of a variety of tasks and scheduled events. Also, the app is able to let the user not only create, but revise appointment dates and schedules as well, which is an awesome fact!
More Stuff Jam Packed in the App
Here are several more reasons to make you love the innovative photo calendar:
-Elegantly plotted photo album calendar
-Swipe gesture to easily move months back and forth
-Access to multiple calendars as well as photo groups controlling
-Dot style viewing for monthly events
-Application of same or repeating rules to similar appointments
Here on, start saying no no to that forgetful brain of yours. With PhotoCal with Event you'll have a fun way of getting your head in the game with your chronological plan of events – a photo calendar with eidetic reminders.