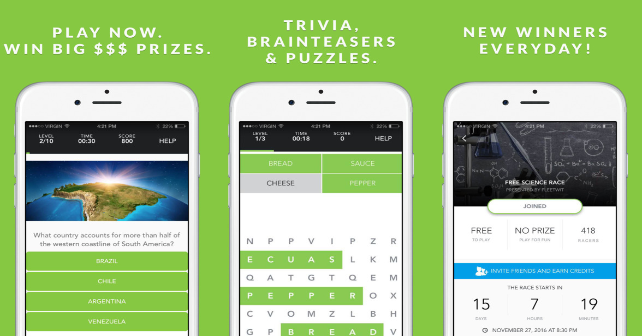 Are you a trivia or puzzle freak who just can't get enough of all kinds of mental competition? Well, what would your reaction be if you stumble onto something that would allow you to earn real money just by betting others in a plethora of challenges that would test not only your mental forte but also your reflexes? For all your efforts & display of skill/knowledge in puzzles/trivia you should surely try FleetWit, where you will get rewarded with the possibility of earning big cash prizes in no time at all.
Technically, the app revolves around Brain Races. They are called as such because they are timed challenges that really test just how quick your mind is in answering puzzles and trivia correctly. Take note that how fast you were able to answer questions plays an important role in the calculation of your points at the end of the race.
If, for instance, you choose a trivia race, you would be asked a total of 10 questions. The number of answers that you got right as well as the time it took for you to finish the set of questions would determine your final score. Prior to a live race, you would be given an overview of the cash prize that is up for grabs, its entry fee, and the number of racers that intend to participate in it.
Races can range from dragging and dropping the right words to match them with their corresponding concepts, classic crossword puzzles, labyrinthine mazes, brain teasers, memory games, and many more. What's good is that races are updated on a daily basis. And if you take the time to read the overview of every race, you will find that the app actually provides tips on how to improve your chances of winning in them.
Incidentally, the app also incorporates races that require a certain number of credits before you can participate in them. These credits can either be bought in set amounts using credit cards or Paypal or earned by performing various activities within the app. The developers guarantee users that races that require credits would allow participants to win larger amounts of money than those that are only being offered for free.
While winning cash prizes may be primary motivator for users of FleetWit, one should also not neglect the plethora of puzzles and trivia that it has created, gathered and is continually building. Its collection of varying challenges and the opportunity to earn real-money rewards are the aspects of the app that make it stand out from other trivia and puzzle app at present.
Price: Free