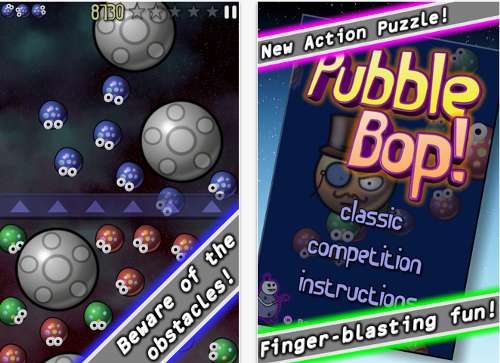 Plenty of new games get released in the App Store every day. However, most of them repeat the same stuff with different animations and sounds. I searched the App Store today for a new game that really has something new to offer.
PubbleBop is a fresh new game that was released recently and I gave it a try for this review. This game is all about popping the existing bubbles and creating new one. It will continue until the player runs out of bubbles. He will get new bubbles after popping three bubbles of the same color. There are three colors and different bubbles are worth different scores. It will really excite the player to go after the blue bubbles, which carry more points and also generate more bubbles.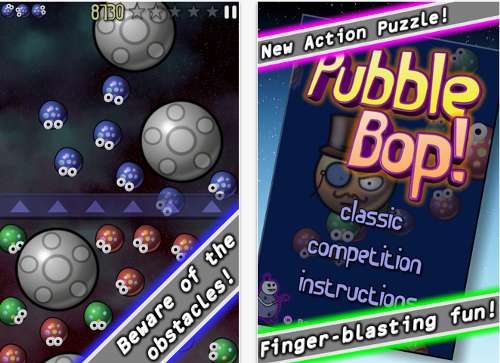 rel="nofollow>
This game looks easy to understand, but it took me some time to unlock even the next level (1.1). The game got much harder in this level with black holes popping all the bubbles. Targeting the right color is the key I think and the movement of the bubbles is also very tricky in PubbleBob. On their way of adventure, players will get special objects to collect and use.
PubbleBop has 27 challenging levels across different worlds. Classic mode is for a single player and there is also a competition mode with online leaderboard. I have an old iPhone and didn't face any difficulty in running this game – no compatibility issue or crash. I think it is pretty impressive for a first version. PubbleBop has good HD graphics, nice soundtrack and I find it a bit unique. If you are fed up with all those Angry Birds and other similar games, you can try PubbleBop.
PubbleBop costs just $0.99 and it is compatible with iPhone, iPad and iPod Touch.
Rating: 4/ 5

rel="nofollow>