About The App
Dingle has launched Beach Whale. Dingle has already developed self aware. In which you need to guide a whale through the beach waters without getting into the sand, but eat the small fishes at same time escape from big sea monsters and reach victory.
Gameplay
In this game in the opening screen you will find a three buttons. One is the play button, next is the cart button and the third one is the settings buttons. Before we see the play button lets see about the other two. If you press the cart button you will be taken to the store, where you can purchase different whales, powers, trophies, accessories and bonuses. When you press the settings button you will be taken to the settings menu, where you can turn on/off the sound effects,music,hints.
When you press the play button you will be taken to the levels page, where you can select any level that you are eligible to play. After you select a level to play you will be notified how to control the whale – you need to tilt your iPhone up and down to make the whale to move up and down. You need to tap on the left side of the screen to make the whale to move its tail. In order to keep the whale safe, you need to make sure you do not take in too far in the beach sand and get it struck up there. Also you need to keep on surfing on the waves to maintain the speed.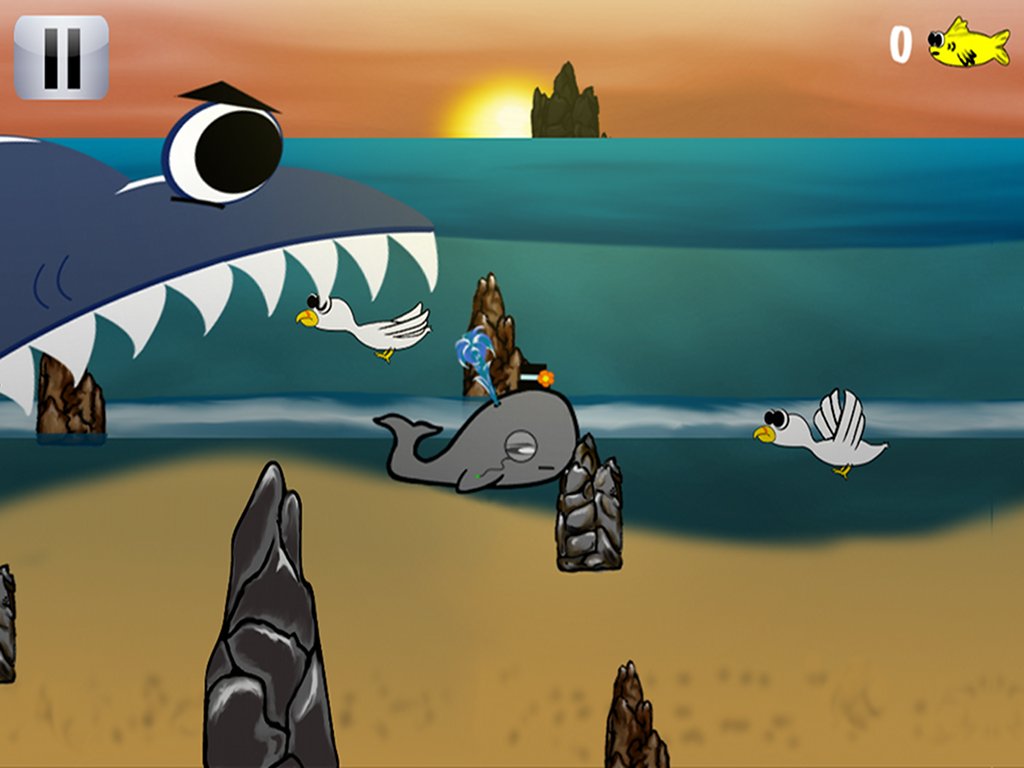 On your way you will find a thumbs up sign and a batch of fishes that the whale can eat and increase the points to buy something in the store. Sometimes you will find thumbs down sign and a batch of creatures that you should avoid. Other than this there will be some big sea monsters which should be destroyed using bombs. You will also face hurdles on your way like rocks those should also be destroyed using bombs. If you go to the higher levels the challenges you face will also be harder. So keep your eyes sharper to win.
Verdict
The interface is sleek and simple, the gameplay is simple so that even kids can start easily. The graphics and color theme everything is cool to the eyes. If it had social media sharing options then it would be great, other than that there are no other flaws. Both kids and adults will enjoy this game. I would give it 4 out of 5.
Price: $0.99
Rating:4/ 5