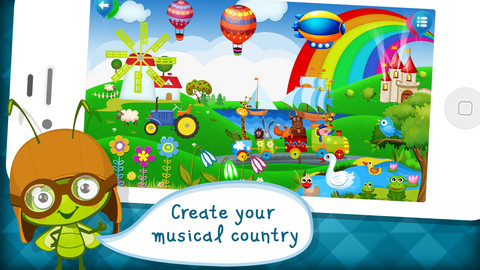 Exposing kids to music during their formative years helps them identify, learn and internalize musical patterns. The musical experience they gain will help them in enjoying and appreciating music better. Music indeed makes the world a happier place and it is essential to get kids started on their musical learning as early as possible. Here is a new app named Happy Tunes that can be a great way to kick-start your kid's musical development.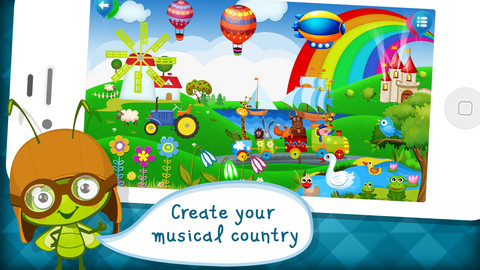 Happy Tunes is an app that has been designed to let kids take their first steps into the world of music. It introduces kids to musical instruments and lets them have fun while learning. It has got plenty of musical exercises and 5 different games with a total of 32 levels.
The app has a visually appealing opening screen (a rainbow, a pond, windmill, plants and much more). In the first game, a xylophone has to be moved to the left and right to catch the falling hailstones. Kids can listen to the tunes of their favorite rhymes while playing this game. This game enhances children's muscle memory and their hand-eye coordination.
In the second exercise, the petals of a flower have to be tapped in the right order to repeat a sequence of sounds. Next comes the matching puzzle game where the kid has to match sound with the correct animal or the musical instrument. These games help kids improve their memory power. Through this process of repetition, manual dexterity is also developed.
The fourth game features fruits and baskets on a shelf. All you have to do is tap on the basket to hear some sound. Later you have to tap on the fruits and place them in the basket from which the same sound came. This game improves aural and musical memory. In the final game, kids have to pop bubbles that come to the bottom of a rainbow. This activity will improve their motor skills.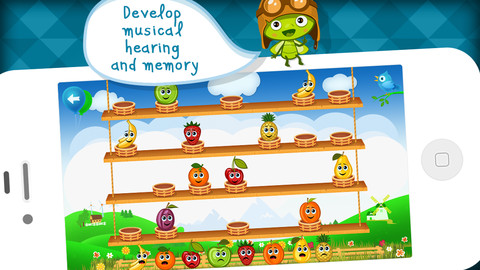 After completing each level, the child receives applause and stars. Happy Tunes offers a maximum of three stars depending upon how fast your kid completes the task. Kids also receive awards like ducks, balloons and parachutes, which encourage them to keep playing the game.
I downloaded Happy Tunes on my iPad for my 6-year-old and he loves it. He enjoyed listening to the tunes of his favorite rhymes as he played the xylophone game. My personal favorite is the fruit game as it really takes some time to master. I loved the funny faces made by the fruits, especially when they are put in the wrong basket.

Happy Tunes has got very pleasing background music. It is bound to attract all kids (and adults too). The pleasing music, colorful graphics, animation and interactive gameplay make Happy Tunes worth its price. I notice that the app does not have many games and I recommend adding more, so that kids can get more out of this colorful musical experience.

 Happy Tunes costs $1.99 and requires iOS 5.0 or later versions.
Price: $1.99
Rating: 4.5/5