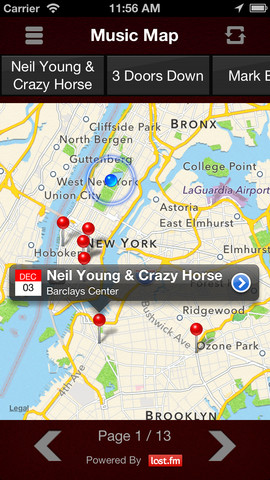 About The App
Live Music Map is music app developed by Apperdashery LLC. This app shows you what music events are going live around you now.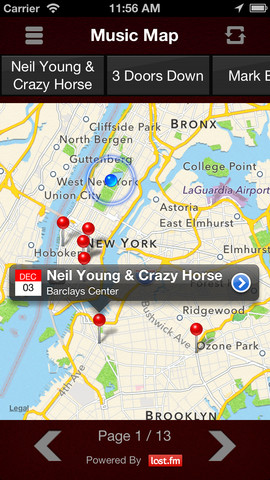 Features Of The App
Live Music App shows the exact place the musical events will be conducted around you based on the genre and distance that you have selected. You can save that event and share it in your social media streams.
Inside The App
When you tap open the app you land on the music map, on the top of the screen you will find two buttons. One is the setting button on the left and the other is the refresh button on the right. Once you press the refresh button, you will find red color pins dropped on the places where there are music events going live or scheduled to go live. In the bottom there is the left and right scroll button to swipe between the events. Once you press the settings button you will be taken to the settings page.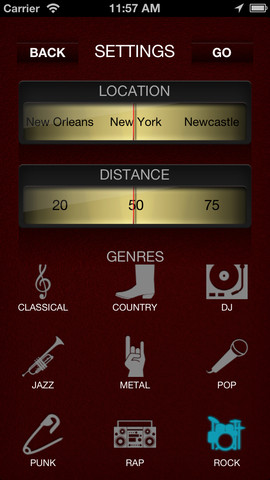 In the settings page you have two buttons on the top the Back button on the left and the go button on the right. If you press the Back button you will be taken back to the maps screen and if you press the Go button the app will search the events based on the criteria you have set and and land in the maps. Below the buttons there are the settings like the Location where you are searching for the events and the Distance from your current location. Below these two there are the genres that you need to select, based on these three criteria you result will be displayed.
In the map screen, if you click any of the pin(s) ie the event's locations then you will find a pop up with a name of the event. When you tap on it you will find the details about that event. The details includes the name of the group, date of the event and the address. Below the details you will find there icons, a compass, a calendar and a map marker. You will also find an compass icon when you tap on it you will be taken to  the last.fm website where you will find the details of the event, by pressing the calendar icon next to it you can schedule it in your calendar and by pressing the map marker icon you can look out for that place in the map. Moreover you can flip over one event and then the other one will appear. The event details can shared via SMS, Email,Twitter and Facebook.
Verdict
The app's interface is easy to use, the app lacks help section. It is for die hard music fans. I give 4 out of 5 for this app. There is also an iPad version of the app.
Price: $0.99
Rating: 4/ 5