What Is The App All About ?
Seal It Free By Sofa King Interactive is an entertainment app using which you can keep track of the deals that you made with your friends.
How Does It Work ?
Using Seat It you can throw a deal at your friends about anything you want, suppose you are in a wedding then you can throw a deal saying will the bride cry or not.

You can make changes to a deal until all those whom you invited agrees for the deal.

The app shows the list of deals in which you are taking part.

You also have a list of deals that are already sealed and waiting for the results.

You can invite witness for your deals.

You can chat with those who are involved in the deal until its in play.

There is a countdown clock that reminds you about the time left for announcing the results.

There is a history page which keeps track of the deals you won, deals you lost and deals you witnessed, so you won't miss anythings.

When you forget about the deal Seal It reminds you about the deal.
What Is Cool About This App ?
An App to Seal Your Deals – a cool new idea.

The UI is attractive using a leather like theme and its easy to use for anyone.

You can invite friends to a deal through contact list, email or Facebook.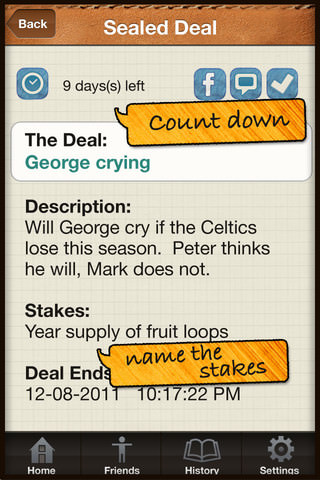 Where Should They Improve ?
Nothing as of now.
Comments
A funny app to keep track of your deals. If you have a lot of free time then try this app.
Price: Free
Rating: 3.5/ 5