What Is The App All About ?
Cardio Lie Detector By UBINURI is an entertainment app using which you can check whether a person is lying or not.
How Does It Work ?
Cardio Lie Detector finds whether you are lying are not by measuring your heart rate.

It does so by measuring your normal heart rate with your iPhone's flash light kept in the tip of your finger, to see the difference in the normal heart rate vs the heart rate during the time when you are lying.

While using the app you need to keep your finger tip (mostly use your thumb) on the flash of your iPhone and press the start button to measure your normal heart rate.

Then it will ask you to say a lie and measure your heart rate during that time and it will compare it with the previously recorded, normal heart rate.

Finally you will know whether you liar or not
What Is Cool About The App ?
I like the user interface, the concept, the process and every aspect of the app.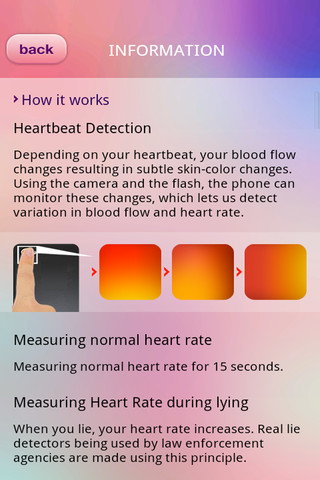 Where Should They Improve ?
Nothing as of now.
Comment
The idea of detecting lie with an iPhone's flash is really great task piece of work. I recommend it to all.
Price: $0.99
Rating: 4/ 5