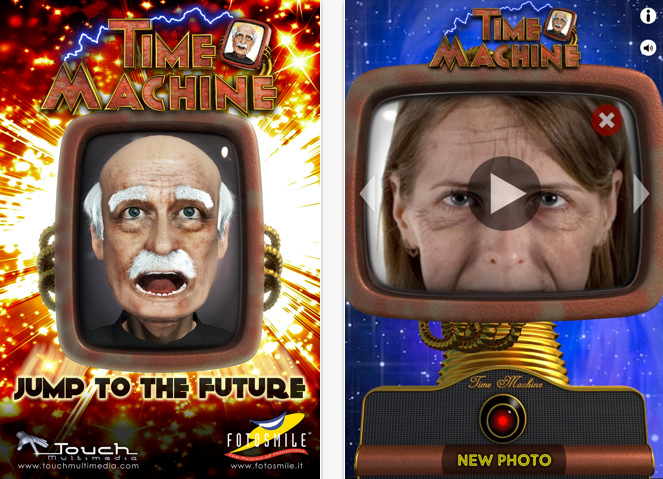 Do you wanna know know how you will look in the future. Then "Time Machine Jump to the Future" By Touch Multimedia, is the right app for you.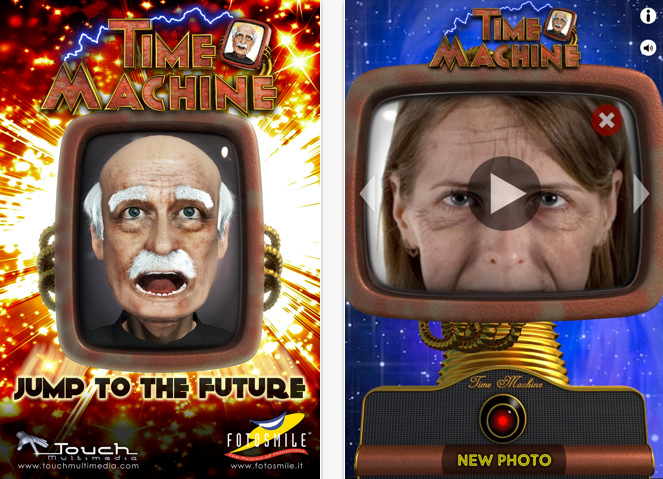 rel="nofollow>
Lots of artistic work has gone into the design of the User Interface of this app, in order make it look like the time machines, seen in science-fiction movies. Just like in those movies where the time machine makes a person both young or old. But this app takes you (your face) only to the future and not back in time.
In just a few simple steps you can travel forward in time. Like choosing the gender, photo source (camera or photo roll). And select a photo, probably the ones facing straight, then zoom in or zoom out to select the part of photo where the face is. Then pinpoint the eyes and mouth using the easy interface.
After the above processes, just start the 'Time Machine'. With cool background sound effects, you can see the app turning you older. And after some time you can see how you will look in the future. You can zoom in on the photo. You can play the change as a video & also use the slider to slowly travel back and forth in time back.
The app's algorithm mainly changes your forehead, eyes, cheeks and your mouth to make you look older. After everything is over you can save the photo in your iOS device or share it in Facebook with both the young & old photos & mail the old photo to you friends & family.
It would be great, if it also had other social media sharing options like Twitter, which I use often. Otherwise it has got a wonderful, easy to use interface and its really worthy for 99 cents. I recommend this to people, who are very eager to know how their face(s) would become in the future.
Price: $ 0.99
Rating: 4/ 5

rel="nofollow>