There are apps for playing and hearing music. But is there any app to teach music? I am sure, there are not many. But I have managed to find one real good app.
JamPlay Guitar Pack teaches guitar to music lovers. But wait this not like any other app. It has an exclusive video collection to teach people playing this attractive musical instrument, guitar. Real good musicians in these videos guide the beginners to play the musical pieces.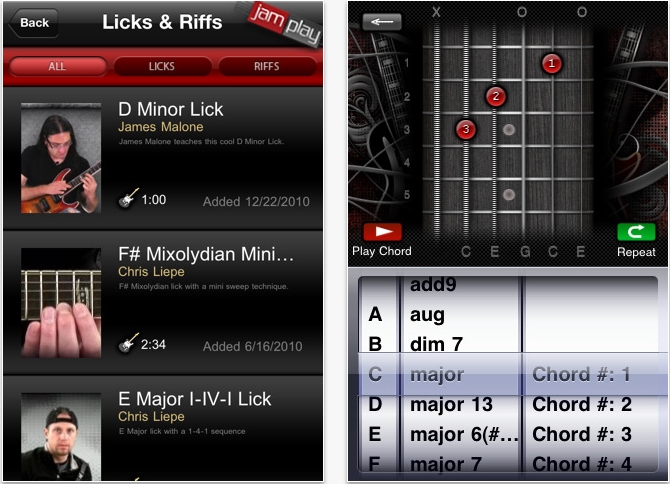 rel="nofollow>
There are three main sections in this app – Videos and Lessons, Reference Libraries and Utilities. Videos and Lessons section has 'Lick and Riff Library' to teach the Riffs and Licks through video based instructions. These videos show instruments and fingers in close up, so the users can easily grab these lessons. The Entertainment section shows music videos, performances and interviews. The Exercise Library helps users to test and practice their skills in guitar. Users should have a decent Internet access (through 3G or WiFi) to reap the full benefits of the Exercise Library.
Reference Libraries has Chord Library with fretboard and images of different chords and Scale Library with Scale Diagrams for all Diatonic and Pentatonic scales. Jamtracks in Utilities has the large collection of original background music. Users can filter this collection for their favorite through genre and key.  With iPhone's microphone, users can tune their guitar using the Tuner here. Users can also get a virtual Metronome in this section.
This is a well designed, stylish app for the stylish instrument like guitar. At present this app has 85 videos, 42 scales, 463 jamtracks and  1250+ chords. Users can expect more content for JamPlay Guitar Pack soon. This app is compatible with iPhone, iPad and iPod Touch. It is available for just $1.99. This is a discounted price. Get JamPlay Guitar Pack now if you want to be a guitarist.
Rating: 4.5/ 5

rel="nofollow>