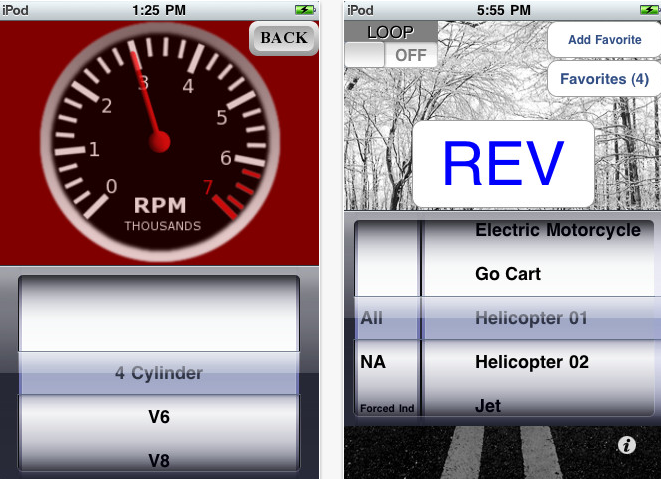 Have you ever heard various types of engine sounds from your iPhone? Now Semvhu has made it possible with their iPhone app called 'Engine Sounds'. With it, users can hear a variety of engine sounds from motorbike's to rocket's; from 4 to 12 cylinder engines. It makes all the engine sounds that one couldn't have ever imagined. Users can hear 37 different sounds plus 11 new sounds, adding up to the total of 48.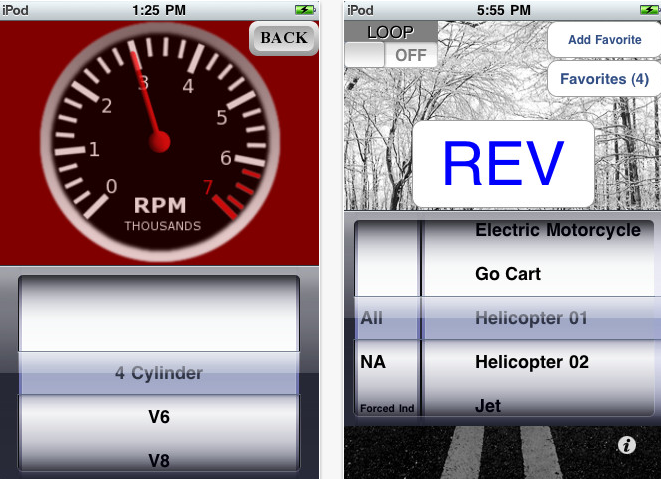 rel="nofollow>
Engine Sounds stands out in its genre. This app looks so simple, but has loads of features. For example, when you use the 12 interactive sounds, after starting your engine you can speed up by just tilting the iPhone like a real car's gas pedal. When I tried this app before my friends, they were amazed to see this app! With its interactive features it's like more than one app in a package.
Now let us see how to make all these engine rumbles. After launching this app, users can see the 'Rev' button and a lot of various engines. There are two scroll wheels to help users select the type of engine that they want. After selecting the engine sound, users can hear it rumbling by just tapping on 'Rev' and stop it by tapping on 'Stop'. 'Rev' will get converted to 'Stop' once the engine has started to roar, and once the engine's sound stops, then 'Stop' will turn into 'Rev'. The loop switch keeps the engine running, and the user can manually 'Stop' it. If a user likes any particular engine sound, he can add it to the 'Favorites' list, make their's favorite engines alone to be displayed. There is an 'I' at the bottom of the screen to tell about the app.
The UI is very simple, but it can be improved by adding a racing car dashboard theme. Though most of the engine sounds are really good, some are not that much realistic. I would recommend this app to people who want to surprise their family and friends during the parties.
Price: $0.99
Rating: 4/ 5

rel="nofollow>