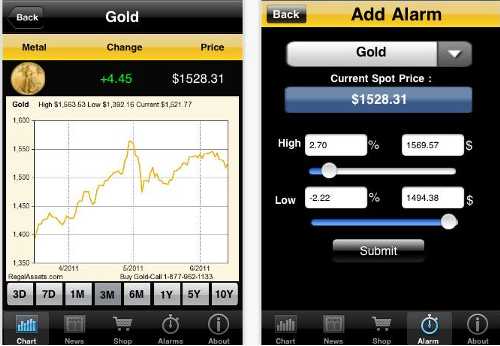 The price of gold has reached its peak and looks to touch the sky soon. Every investor wants to try his\her hands in metals nowadays. I had the same idea and looked to get an advisor on my side. App Store helped me get one.
iGoldLive, an iPhone app, helps the investors with all the news, charts and warnings about the price of metals. This app lists the prices of four investor-friendly metals – gold, silver, platinum and palladium and indicates the change in these prices.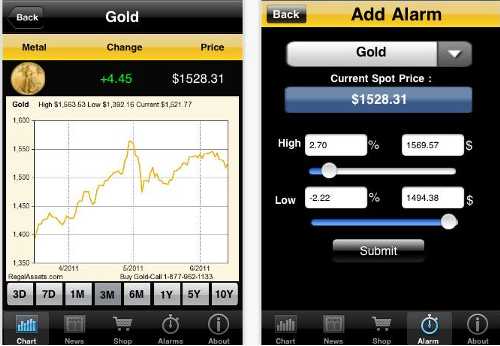 rel="nofollow>
There is an option to check historical prices and I tried to see how it works. In the past two years, gold price has risen 70 percent, while silver price has risen 184 percent and palladium has risen a whooping 230 percent to hit $770. I think metals are the better investment options these days. This app has all the data about the price of these metals for the past 10 years. Users can also get this data in the form of charts.
You can make your investment right from this app. The 'Shop' section helps in making orders to Regal Assets for purchasing these metals. All you need to do is just select the item and quantity you need, iGoldLive will draft a mail for you. Users can make it to warn them once the price of a particular metal has reached a certain level. I think, an investment app should have a feature like this. The 'News' section of this app aggregates the latest news items about the metal investments.
iGoldLive has all the stuff one could expect from an investment app. If it provides investment information for some more metals, it could get even better. However, if you have an interest in gold, silver, platinum or palladium investments, get this app from the App Store. It is available for free of cost.
Rating: 4/ 5

rel="nofollow>