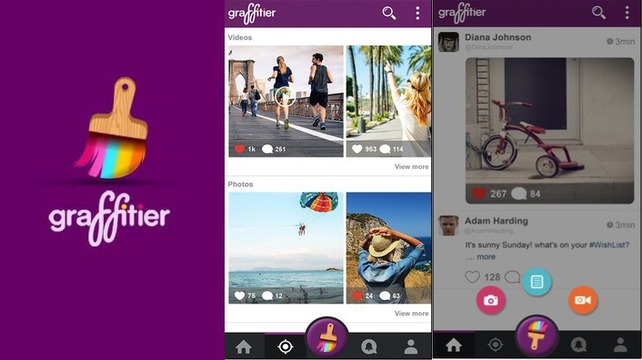 There is no absence of social apps that let you share texts, pictures, and other multimedia from their platforms. That's pretty much what Graffitier is also all about. However, it's in its other more original features that make it an app that you would choose over the numerous options that you can already choose from in the iTunes.
Graffitier also noticeably has a greater focus on locations. While social apps' primary convenience lie in the fact that it can connect users wherever they are in the world, Graffitier instead chooses to place emphasis on shared images and videos of the current area that their users are in. Without a doubt, this is something that even the most popular social apps lacked, which is unfortunate since it actually gives the people whom you share your posts to a chance to immerse themselves better in it. Of course, this only ever leads to better interactions.
The app is very easy to use too, as you only need to tap the painting button to gain the options to share texts, images, and videos. Every time you share either of the three, you are also allowed to choose whether you want to reveal the location where the photo, clip, or text was taken or sent by sliding the ?how on map' option to the right. This is assuming that the post you shared was written or taken in your current location.
Another noteworthy aspect of Graffitier is the ability to check other Graffitier posts in the location that you shared as well as the ability to check for hotspots near it. These hotspots allow you connect with other Graffitier users, and of course, this allows you interact both offline and online.
Just like any other social networking app, Graffitier also allows its users to like and comment on the posts of other Graffitier users. You will also receive a prompt notification every time a user does this in any of your shared posts. You can also liberally follow other users if their posts have caught your fancy and receive notifications every time they make a post as well.
Graffitier, if compared to other social apps as a whole, would definitely stand out in its focus on locality. Indeed, a social app hasn't placed more weight on locality than Graffitier has, and this could not be more apparent in its innate features of being able to explore hotspots in your specific area, to cite a single example. With that said, this app surely works best for people looking to socialize better in a specific nearby locale or for those who are looking for notable events and gigs promoted by other users.
Price: Free