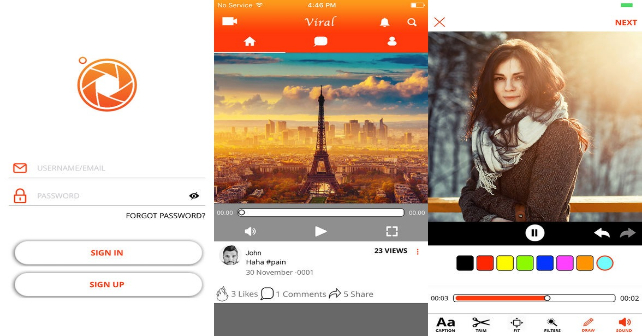 Viral! is a popular, new video-sharing app that allows you to capture, edit, and share videos with your friends all in the same location. Because of its simple, user-friendly platform, Viral! makes it even easier for you to stay in touch with friends and family from around the world and keep them updated on what's happening in your life. In other words, Viral! is the new and faster way to share your moments with the world.
Viral! has three tabs on its home screen. You have your news feed where you post your own videos and watch your friends' videos. The middle tab allows you to chat directly with your friends, and the tab on the far right displays your profile and personal settings. You can easily add friends simply by searching for their name in the search bar and following their page. When you're ready to share, click on the video icon in the top left-hand corner of the page to record. Once you record, you can crop the video, add filters, draw over the top of the video, add a caption, and change the overall size. Then simply post the video and collect stars from friends who watched and liked it.
Viral! is unique because it is the new and faster way to share your moments with the world. No longer do you have to upload videos from your camera. When uploading videos from your photo album or camera, you have to go through a number of steps on other programs before posting. You might have to compress the video if the file is too large. You'll have to open up a separate editing program to trim off unnecessary sections and then maybe even a third to add creative filters and effects. Viral! allows you to do all of that at once. Simply shoot, edit, share. That's it. Plus, you won't get bogged down in long-winded posts about your friends' political opinions. Viral! is just videos, so you can see what matters most right away.
We get it. Your life is precious, and you want to make sure you can share your special moments with your loved ones whether or not they're present. If you want a new and faster way to share your moments with the world, then there is no other choice, but Viral! Download Viral! from iTunes or Google Play today to start sharing your life instantly. An ingenious combination of Twitter and Snapchat, this app is sure to go Viral!
Price: Free