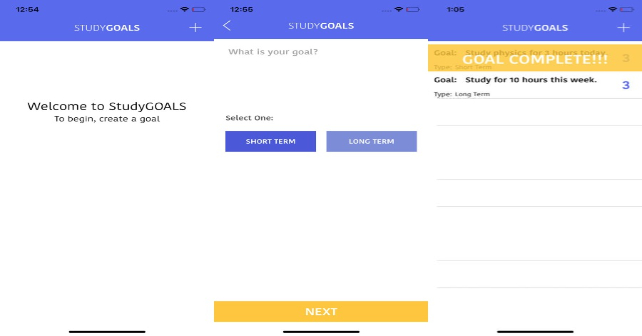 Tracking goal progress has always been an essential but difficult part of student life. There are many apps out there in the store that help track goals but there are just not able to connect and motivate.
Study Goals app uses a unique point-based system that makes the process of completing goals interactive and motivates to do more.
The app has the option of setting goals that can be classified into short-term and long-term goals.
After typing the goal you have to enter no. Of points until goals is complete. So let's say you have a goal to study 10 hours this week so you can set 10 points until complete. After setting the goal you can add points one by one as you complete a step. So for every our, you complete you can add one point to it.
This concept of points motivates the students as when they see that they have already completed a part of their goal and some more is left they think – "I have already completed these many hours so I'll face no problem and let's do more".
This mindset also improves the productivity of the students.
This app is developed by a student of 17 years age who himself faced the problem of tracking and completing goals. He developed this so that other students do not have to face the same problem.
The app would be even better if some more advanced features were included as adding sub-goals and notes but we expect these features to come in the future versions.
Price: Free