With Sticker Skater Lite, you just learn to use the controls and then, get, set and go!
A cool gaming app for your iPhone and iTouch, Sticker Skater comes with three levels in its lite version. You don't need to know skating or be a skating lover to enjoy this game. And you are in for a splendid, realistic skating experience when you start the action.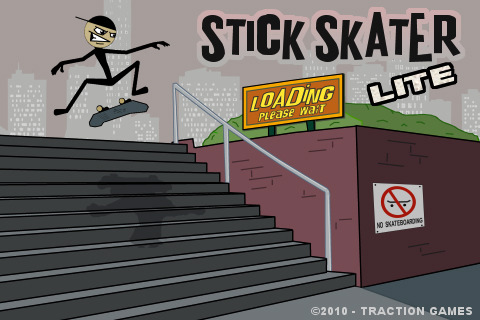 rel="nofollow">
The USP of this game is its simple controls, accompanied by the awesome animation. Though the screenshots are not that inviting, the game is. Plunge into Stick Skater Lite and go on a skating spree!
When you start a new game in Stick Skater Lite, you have two options – Beginner stage and Advanced stage. The second one differs with its swipe positions like 360 ollie, trey flips, krooks, pop shuv etc. Playing with each of  these means playing for different points. Five lives are given for a new game and if you lose all the  five before completing all levels, no need to worry, you can resume the game where you finished. For each type of skating, you can earn points rel="nofollow"> and grab dollars on the way.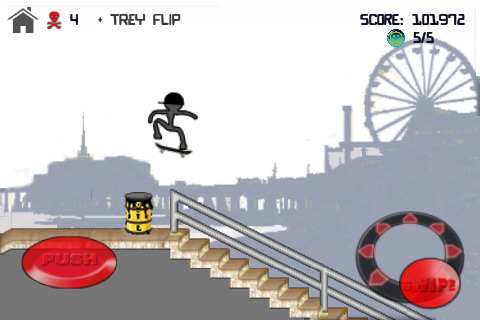 rel="nofollow">
A button in the left side "trick" makes you to push fast while skating and the button at the right makes you to jump over the obstacle, tricking over stairs and gaps along your way. With these simple controls you can glide your way with ease.
The simple but very effective animation makes you to feel real while skating. The skitter is a sketch, but it almost makes a natural impact. The locations used in the game also make a mark. With regard to the music, it is quite funny when the skater dies. The background score is the most awesome when the skater skates over the steel fence.
Pros:
Simple controls that make skating damn easy
Great animation that creates a realistic skating environment.
Fabulous background sounds that accompany skater's each challenge
Cons:
In the advanced level the swipe control is a little tough to select the varieties of skate
On the whole, Stick Skater Lite is a must-experience game. Though the lite version is free, the paid version is worth your buck. The paid version is for $0.99 and comes with a collection of 30 levels. In fact the lite version only contains 3 levels.
An app worth buying! Skate all your way home! Cheers!
Cost: Free and Paid version for $0.99
Developer: Traction Games
Rating: 3/5
Download from iTunes rel="nofollow">