Well, I need to confess before writing this post. I am not a skater, but love to skate after playing this awesome iPhone game. Many get impressed to skateboard after watching skateboard videos and playing games like Tony Hawk Pro Skater 2. The game offers some fantastic skating stunts and excellent camera viewing angle. The gameplay is smooth and the overall game replicates the game of a skater.
I installed the game on my iPhone and headed to Career mode to start my career. The game sounds are clearly reproduced to give the real feel of experiencing the game. The game controls are easy to use and it can be customized according to your own needs and you can also enhance the accelerometer of your iPhone. If you want to play the game with traditional keys, you can enable the virtual navigation pad and four buttons for performing certain actions. The accelerometer option was pretty hard to use for beginners, but I found its fun to play especially while making stunts.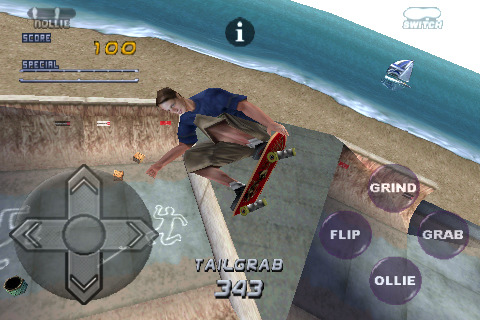 rel="nofollow">
If you get used to the game, you could find numerous tricks associated with the game. There is a feature that has really impressed and that the replay system, which allow us to watch replays of our stunts. The game is all about stunts and perfect moves, so the more number of points earned through stunts would put you to the next level. Overall good game play with decent animation and replay system makes Tony Hawk Pro Skater 2, a must try out game for your iPhone and iTouch.
Cost: $9.99
Download from iTunes rel="nofollow">