There are few games in iPhone that depicts the adventures of mid 90's and one such game is broken sword: Director's cut developed by Revolution. The game actually symbolize the adventures in the mid 90 with excellent graphics and sound. The gameplay is more of an epic kind and portraits the lifestyle of people before some decades. I am really excited with the story that begins with the murder at Palaris Royale. The murder happened at the time, when Nico Collard invited to interview the statesman Pierre Carchon. The story goes as she found herself into the death conspiracy and it ends how she solves the conspiracy going around her.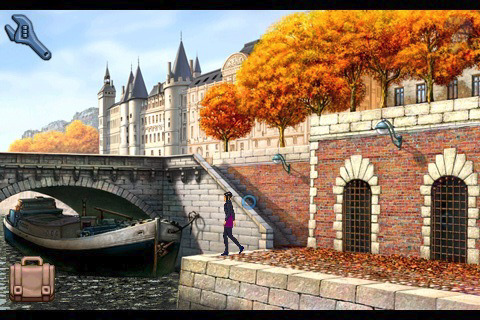 rel="nofollow">
Graphics looks great with cartoonist images for all humans and I found its better than other epic adventure games. There are two things that I found contributing a lot in the gameplay and those are the music and audio direction. Broken Sword is a big game with a gameplay time of more than 25 hours and you can really the game enjoy with the excitement to see what is going to happen next.
Previous users of Broken Sword may have some issues with the continue button and some bugs in certain missions. Cheers to the game users, Revolution has updated a newer version 1.1 to fix some of bugs on continue button and hotel lobby mission hotspots. Overall a fantastic game with brilliant graphics, game play and its one of the biggest iPhone game I ever played. At a price tag of $4.99 its a good deal to enjoy a brilliant game at a low price.
Cost: $4.99
Download from iTunes rel="nofollow">