There are numerous iPhone racing games rel="nofollow> available and adding to the list another well designed game Split/Second. I am clueless about why Disney Interactive has named it as Split/Second, but after playing the game, I got to know, the game needs you to stay awake to overcome obstacles. The game has 5 exciting level with 1 level added for iPhone or iTouch users exclusively, probably iPhone users are blessed; what you say?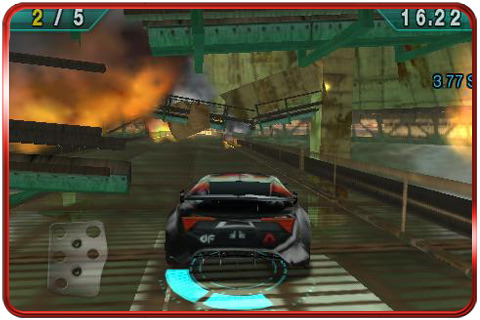 rel="nofollow>
Gameplay
The game starts with season's mode and I headed towards TV season, where I found 9 different episodes and each contains four different levels. The detonator mode was fun where we try to beat the lap record by playing solo. More than all these you get multiplayer option using bluetooth or Wi-Fi, definitely it helps racing against all my friends to prove my mettle.
What I love:
Split/Second was an action packed racing game, which I found unique and interesting.
Good sounds effects along to graphics, particularly when something blasts
The game puts you totally into the game while driving
The powerplay is one of the best about this game
Eliminators mode is full of fun to eliminate your competitors
Tilting mechanism is good, but you need to get used to it, especially while making  a turn
What I hate:
If you race a track for more than twice, you can easily spot out the obstacles and finish the level easily.
While playing the online, there is no ranking system to keep track of your scores, really bad
The gameplay was pretty easy in normal mode
Overall, I loved the games some lack of features and priced at $6.99, its worth of your money to get into action packed racing.
Video credit – Toucharcade
Cost: $6.99
Download from iTunes rel="nofollow>