Monster Trucks Nitro has always been the best monster truck themed game ever created. And its Nitro 2 is out now. Starting with "Welcome to Monster Trucks Nitro 2!" announcement, gives you options for a walkthrough tutorial before entering the game. In this version there are 20 unique tracks with three difficulty, or sprint, levels each. After playing four tracks, players will be asked to unlock with an entry fee. Intriguingly, players are pitted against a ghost opponent truck on each track. Along the entire game, wrecked cars, destructible structures, various barrels, and other hard obstacles will stand in your way. Overcome them cleverly or you will be knocked out. Quick speed boost seems much helpful on the way. Pushing the NOS power is the way to flip your track. Yeah, just tilt the device to flip the truck up on the hills and ramps. Earn Nitro boost by landing on at least two wheels without losing control.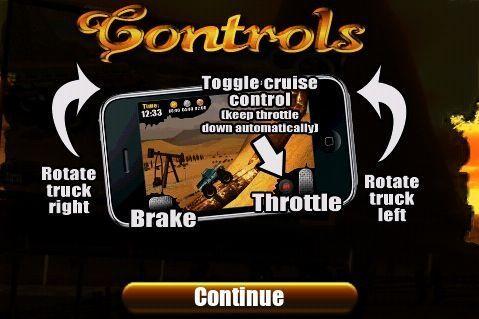 rel="nofollow">
This Monster Trucks Nitro 2 is a piece of outstanding race experience; you can go for a top angle camera panning, zooming, car explosions and much more. Replay again and again, just to watch the destruction, that's awesome!
Play controls are cool, smooth and highly-responsive. All depends on your tilting skills. Wheelies and flipping over the obstacles depends on your tilt mastery. Easy navigable features like taping the middle of the screen to pause the game and menu options, adds coolness to the game. Sounds effects are very impressive and credible. Online leader board is a cool thing to check your status over the online and it lets you to compare National and Global Leagues and records. Also you can create private leagues and play with your friends. Awards are achievable. To unlock the awards, make cash or by number of wins any category.
Bottom-line: This is for real gamers
Cost: $0.99
Download from iTunes rel="nofollow">