Save Sylva TD is a clean tower defense iPhone game that is quite challenging and tough to play. I have played some Tower defense game in the past, but Save Sylva is the toughest tower game I have ever played. The outlook of the game tends to look complicated and some features are really confusing. The game doesn't have any special attributes except the updates that happens on every level.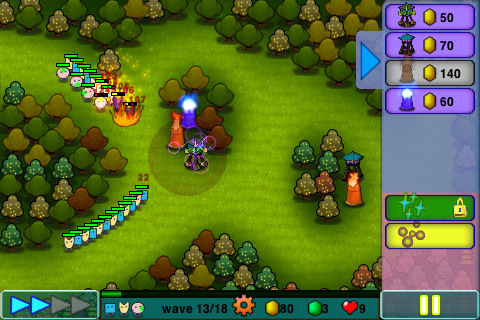 rel="nofollow>
Save Sylva is a little complicated game, but the gameplay cannot be compared with any other tower games. The game gets upgraded with special units with three upgrades per category basis and six upgrades per unit. So the more the game gets difficult you gain additional updates to combat it. But still the game is hard to play. For me I took around 4 times to finish a level and this is comparatively higher than other games that I played.
Voila, I just love the game speed control, where we can control the speed level of the game, this somewhat helps to judge and destroy the enemies. While playing the game, I wasn't able to zoom in and this looks to be a disadvantage of the game.
Finally, after playing around the game for an hour, Save Sylva is a pretty hard yet interesting iPhone tower defense game. The app cost $1.99 for the full version, however you can grab the lite version for Free rel="nofollow>, before you head for a purchase.
Cost: $1.99
Rating: 4/5

rel="nofollow>