There are some games that keep us lively while playing it and some don't. Incident for iPhone is one such game that keeps you so attached to the game. The Incident is a mid-80's styled action game and I bet its a new gaming concept which we haven't played. The story of the game is about jumping, dodging and collecting power up coins to get out of the place without loosing your life.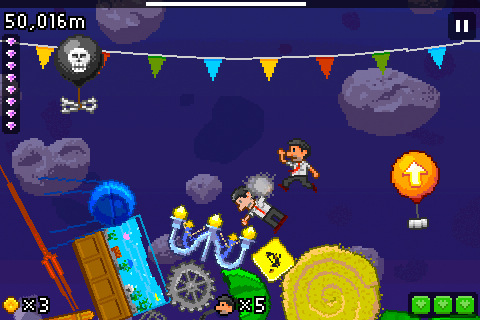 rel="nofollow>
Gameplay
First let me talk about the controls. The move of the hero is controlled by tilting your device and tapping on the screen to jump. A simple controls that makes the gameplay more interesting and of course you will learn to master the game to stay alive till the end. Right from the first stage to the last stage, user needs to be awake and watch all the possible falls to save the life. Once you get used to the controls, dodging and jumping would be very easy to move on will full life. The game also has power up points that comes along the way of run and checkpoints to save your game points. so probably you won't be out of life.
The game has about eight levels starting from street to ending in space, but all the levels looks to be tough when you move through the levels.  So you won't feel like a short game anymore.
The obstacles that come through the way are quite strange varying from sofas to taxis, wooden box and statues. You won't see much difference in the obstacles are you go along. The pixelated objects gives a complete retro gaming idea and somewhat reminds me of the video games that I played when I was small. Finally what I found unique about the game, is the death trophy. Death trophies are given based upon the objects that killed you, along with the distance traveled.
With all the mentioned highlights, The Incident hopes to brings a unique game experience for the iPhone , iPad and iPod Touch. Besides all these things, the game is simply fun to play in a retro concept. If you have tried this game on your iDevice, do share your thoughts with us.
Cost: $1.99
Rating: 4.5/5

rel="nofollow>