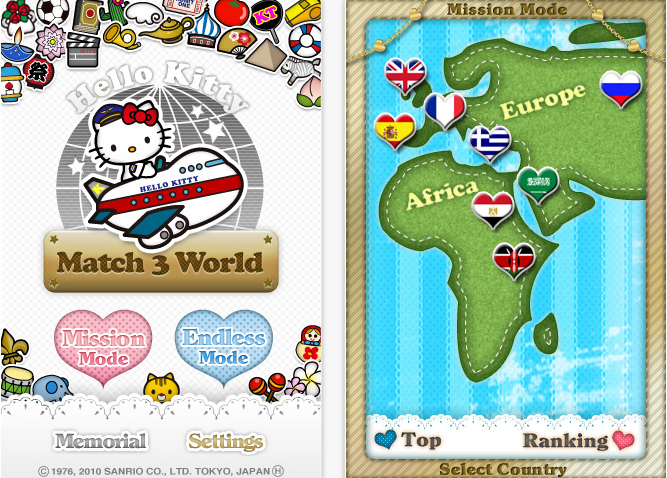 Many of us already have atleast five game apps on our mobiles, but we still have the want for more. There's a never ending desire to always explore, want to have that taste of victory when we play a new game. Have you ever felt it, when you complete a level or pass through a sector of a game, you experience that feeling like as though you have won the war.
rel="nofollow>
I aways long for a feeling of accomplishment, there's nothing that can beat the feeling of satisfaction that you get when you have won a game. "Hello Kitty Match3 World", is another game that I went through the last weekend. When I first went through the details of the app, I thought it was yet another kiddy game.
But I guess I underestimated it, the app is not as easy as it seems. There are several levels in the game that you have to get through, even getting through the first level was a little difficult to me. Little miss "Kitty" is actually a cat that's on a mission, and you are going to travel with her all over the world. On the first Screen you have an option to go on a "Mission Mode" or on an "Endless Mode" .
Well I would say that either way your in for a treat. The mission is to make as many trio's of the symbols or icons that you have on the screen with in a minute, and for the beginner's level you have a mission that 's ten times hard and has you passes on and go the next levels the mission gets harder and harder becoming fifteen and more. I think I crossed the third level as of now.
The symbols and icons on the screen are based on the country that you choose, if its London, you get all icons that remind you of "England" and if it s "Australia", its all icons of "Australia". So along with kitty you get to travel all around the world, to Egypt and India and many more. The app is really fun, I enjoyed playing it and actually want to go back for more. I'm just determined to get to the next level.
Well just to help you out with a little more information on the app, there are actually 18 different kinds of Kitties that your going to be seeing on the app, depicting the place that your going to choose on. There is a staggering number of 126 varieties of original block featuring countries of the world. The app also provides 20 varieties of cute wallpapers for your iPhone / iPod touch in each theme!.Then there is an additional "Bonus Theme" and I doubt that I'm ever going to get there, you get to play the "Bonus Theme" once you have completed all the themes around the world. Now that's going to be fun. Arrange a match with your friends and see who makes the top score then share it with the world through "Twitter". I'm sure your as exited as I am, if your not I'm sure you will be when you start playing with the best kitty in the word. Cheers guys!!! have fun!!.
Price: $1.99
Rating: 4/5

rel="nofollow>