It is not an easy task to put a child to sleep. It demands some extra human efforts from the side of parents. When the traditional ways fail to pay, we have to look at technology for help.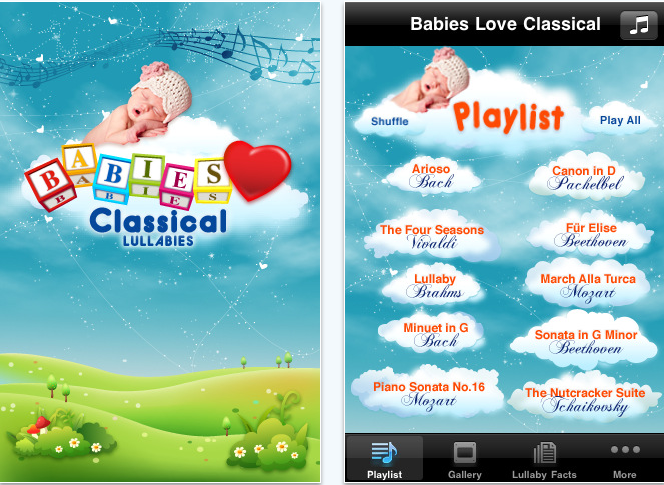 rel="nofollow>
I found an app in the App Store, that helps me deal with my 5 moths old. Babies Love Classical is collection of 10 carefully selected musical pieces from world famous composers. It includes the masterpieces of geniuses like Mozart, Beethoven, Bach etc., to comfort a restless child.
Introducing soothing music won't have a bad effect on a child at any time. So I decided to try with this app. Let us discuss about its features. In this app user can set timer to play and stop the music. It also provides background informations about the music and the composer. You can add beautiful images of your baby to it and view them as a slide show. The lock\ Unlock facility will help you to hear uninterrupted music in the case of accidental bumps.
It has an easy-to-use interface and you can play all the songs by the sequence or select any one among them to play. There is a Shuffle option to play them at random. The fact file that comes with it, tells about the effect of good music on a baby. As researches show babies are sensible to sounds even when they are in the mother's womb, it can also help to pre-natal mothers. It is also good for the mother to de-stress in the peaceful environment.
To be frank, I really enjoy this music.  This app was released few days back and this hot release can work well on iOS 3.2 or later. It costs only $0.99 and it is worth buying. With this app mothers who don't know how to sing a lullaby don't have to worry any more.
Rating: 4/ 5

rel="nofollow>