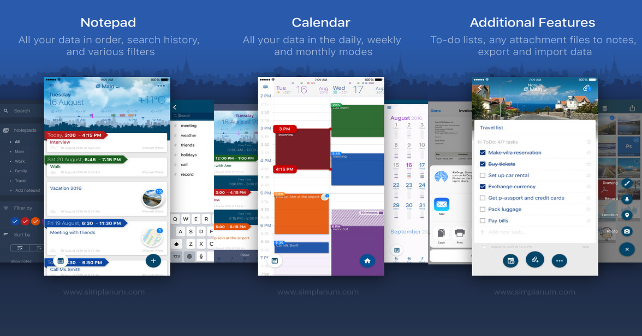 The benefits of organizers are far too many to overlook, and your smartphone has pretty much all of it in separate apps like Cloud, Calendar, and Notes. While these apps may seem adequate to most users, there's always that hassle of using them separately all the time that can't be ignored. Simplanum, true to its name, seeks to simplify all the planning and organizing aspects of your personal and work life by offering all of the tools you need to make such endeavors a breeze. 
Its all-in-one quality is highlighted by the fact that it has a Notepad, a Calendar, and a Diary within its interface. In the Calendar, you are given the freedom to set and schedule specific activities, events or meetings you need to do and attend within a given time frame (with days and hours in mind). Everything can be laid out in a manner that is reminiscent to a check-list so you would always be in the know of what you may miss.
Voice recordings and annotations may be added to plans and meetings you enter as well. You may do the readily do recordings within the app. On the other hand, the Diary serves as a more responsive journal, while the Notepad allows you to take note of specific occurrences in your day and you can use specific keywords to organize them or get to them quickly.
Another feature of this app that is worth highlighting is Cloud storage, which pretty much guarantees that all the entries you've made would have a backup. This is all the more assured by the instant synchronization capability of the app. Need to attach files to your entry? Good news is that it also allows you to include files in them. 
Other miscelleanous features range from a weather forecasting, clippers that lets you save pages from browsers to the app, and a built-in Web client that allows seamless integration into laptops to not having the need to be connected to the Internet all the time to view the data you've entered, smart recognition of time and date while typing, as well as the ability to add geolocation to notes. 
While the app is essentially free and all of the necessary features would be made available to users, availing of the monthly subscription does have its benefits for they unlock the number of entries you can make. Availing of the Premium Cloud actually merits you with unlimited entries so it's practically the best offer that users can choose, considering it only costs a lowly $6.99 per month. 
Simplanum's way of giving you plenty of tools at your disposal that are focused on making your organizing endeavors easier is what also serves to make it wholly different from other apps that has a similar concept. If you need an organizer ASAP, this is one that you shouldn't miss. 
Price: Free