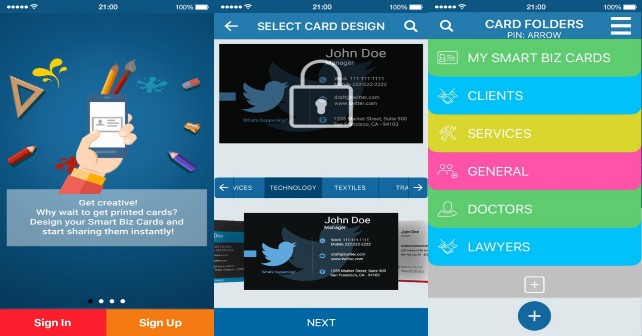 Grown tired of average printed business cards? Also, wouldn't it be extremely convenient if you can just instantaneously send digital business cards to your contacts via your smartphone? Smart Biz Cards makes all of that possible and a lot more with the helpful and straightforward features it has incorporated.
As you launch the app, it takes the initiative to take you through all of its functionalities in a step-by-step manner. This in itself is what makes the app so easy to use, to the point that you'll be able to create a professional-looking business card with just a few taps and swipes.
As a first step, you are asked to choose the design you want for your card. When it comes to designs, rest assured that you'll have plenty to choose from. You only need to input your company's email address to unlock other designs that have such titles as Arts, Banks, Realtor, Media, etc. As can ascertained from these names, the designs make it immediately known to the user what's recommended for the specific field he is in.
This is one unique aspect of the app that is worth highlighting because it this isn't found in a lot of apps that have the same purpose. After you've chosen the design, you now only need to input your pertinent details like name, company, address, phone number, job title, to cite a few. Afterwards, you may also upload your own logo from your gallery. As you do all these customizations, you are always served a preview of what the entire card would look like. Once everything is done, you can now tap the Accept Card Design' check mark to save your card.
The card creation process is only half of what Smart Biz Cards is all about, though. Once you click on the My Smart Biz Cards category, you'll be able to view all your created cards and edit and share them easily. You may even share cards with your contacts and colleagues using your own unique PIN. You only need to enter your contact's PIN to share cards with each other. Once you have their cards, you can easily view the details of each other's professional profiles and even directly call one another from your digital cards.
Another truly useful and time-saving aspect of the app is that it lets you update your existing cards easily. This way, you won't have to have a card printed in bulk only to have it revised again after a few months or weeks simply because you have been promoted, moved to another company, or changed addresses.
The app even includes a card scanner that lets you grab the design of a printed card (it could be your former card or a card whose design you simply like) so you can edit it and enter your details through the app.
This makes the app's capabilities design-wise practically limitless. What ultimately sets Smart Biz Card apart from other apps that function in the same way are its design, its nifty scanner, and the convenience it brings when it comes to creating and updating your business cards online. Its developers really know what it's like to encounter the usual problems with printed business cards, and they have pretty much remedied them all here.
Price: Free