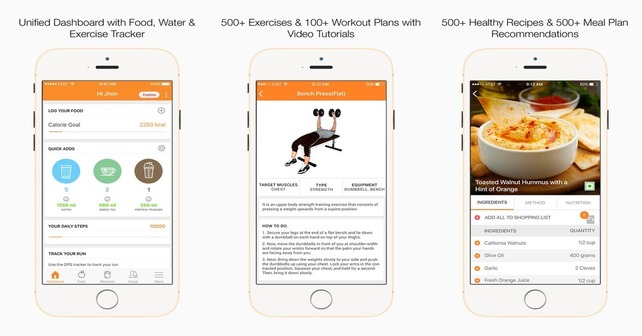 MevoLife App is a health, weight and fitness App which is free to download. It helps individuals to lose weight by tracking diet, calories, fitness and much more, runs while connecting people who are like-minded socially.
The 1st thing to realize when a person opens the Mevo is the login screen. The app can be used via the guest option. While one is logged in, many features will open. For example, the social features will open. It is possible to log in through Google+ or Facebook by simply creating a Mevo account using an email
Overview
• This is an all in one App for losing weight
• The complete fitness app has a series of weight loss programs
• Result oriented diet for losing weight and reaching individual goal
• Inbuilt pedometer, workout program, exercise suggestion, workout plans and weight loss suggestions
• Has an option for individual to connect with wearable fitness such as Fitbit
• Nutrition calculator
• Fitness and weight tracker
Dependable Food Coach
Mevo App gives individuals access to meal suggestions, healthy recipes, health news, diet plan, healthy articles, fitness priorities, weight loss and general food recommendations.
It is a good example of free flow fitness. It allows an individual to lose weight, become fit, build muscle, and eat rightful food and living healthy. An individual can use virtual weight loss coach so as to enjoy the active, free and healthy lifestyle.
Key Features
FOOD and NUTRITION
• Barcode scanner
• Meal plans well as diet tips
• Healthy recipe for better diet
• Healthy diet, calorie counter and weight loss- these tabulate carbs and has protein calculator
• Nutrition facts, nutrition calculator, and planning like nutritionist
EXERCISE
• Personalized Yoga instructor
• Quick workout (2,3,7 minute goal and other types of plans)
• Step run tracker
FITNESS TRACKER
• Weight Tracker – help individuals to manage and lose weight easily
• Provides feedback based on individuals weight
• Set progress level based on individual physical activity
SOCIAL HEALTH COMMUNITY
• Easy access to health communities
• Makes individuals accountable for their progress and motivates people to hit weight and fitness goals
• Reliable support for weight loss
FUN TO USE
• Inspire individuals with some quizzes and challenges on natural weight loss and fitness. With this, people can quickly focus on nutritional goals
• Allow people to use their voices to enter facts and figures without necessarily typing them
CONNECT DEVICES
With the inbuilt pedometer, Mevo App synchronize data with Fitbit and Google Fit so as to help individuals monitor progress of fat loss
Pros:
This App is different from others because of the following reasons:
· Meal plans
· Meal of the day
· Single exercises
· Workout plans
· Good design
Conclusion:
Mevo App is the best weight loss and fitness App that people may require. It directs individuals in the free diet plan to assist in losing weight, build, and some muscles and in enjoying a balanced diet. An individual can tune into workout plans, exercise program, daily Yoga routine and in harnessing tools such as fitness trackers, protein calculator, calorie counter, healthy recipe, and nutrition calculator. Be it losing weight for men or women, MevoLife App is the complete solution.
Price: Free