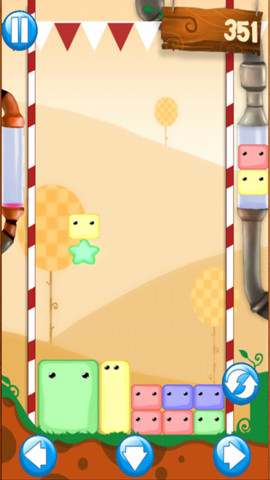 About The App
Jelly All Starts Full is a universal games app developed by Immanitas Entrainment GmbH.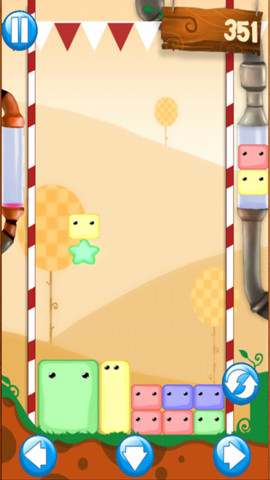 Inside The Game
In this game you have eight different types of jellies, they are detonator,angry jelly,bomb,arrow,diamond,unknown jelly,karma bar and color jellies. The game play is much similar to the famous puzzle game called Tetris. You need to arrange the jellies in such a way that same color jellies form one single big block, and then they vanish, giving you points. There are also star jellies of each color that will make the same color jellies that are closer to it vanish when it touches them.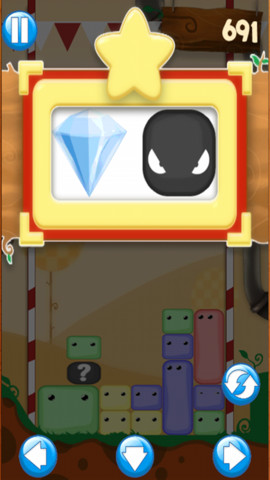 If you want to get higher scores, then you need to make more jellies join together and form fatter ones. The six types of jellies have some special attributes. The detonator jellies are used to destroy other jellies. Second is the Angry jellies which can be destroyed only by making the colored jellies around it explode. Third is the Bomb which destroys the jellies around it. Fourth is the arrow it destroys the jellies below it. Fifth is the diamond destroys all in game same color jellies. Sixth is the unknown jelly, once its placed the roulette will run above and you should choose the right one and play with it.
The last one is the Karma Bar which will grow quickly so you need to be cautious, when it is full it will fall. The detonators won't work with the for five rounds. Now lets see about the user interface of the app. Once you tap open the app you will land in the home page in which you need to tap in order to go to the menu screen. In the menu screen you will have the 'New Game' ,'Account ','Local High-score ','Online High-score ','Tutorial ' and 'Credits'. The New Game option will start a fresh game. The Account option will create an account for you in your name so that the high-score that you achieve will be stored in that name. Local High-score will store your achievement in the app alone where as Online high-score will store your score in the whole community of Jelly All Star players online. The Tutorial has the details about the special jellies and the final one is the Credits.
Though the concept of the game is not new, the interface is refreshing and cool to the eyes. Also there is a detailed tutorial. I would give 4 out of 5 for this game.
Price: $0.99
Rating: 4/ 5