About The App
Celeb Poker Free is a game app developed by Viaden. You play with multiple players with through game center.
Inside The Game
In the opening screen of the app you have a lot of buttons. Wait don't panic ! I will explain them to you. In the left side you have the 'Invite Friends' button using which you can introduce your friends to the game and get rewarded for it. Next is the 'Free Chips' in which you can get free chips if you share/ like the game on Facebook or Twitter. The 'Gift Shop' where you can by gifts with the coins you have. 'Private Table' to play privately, 24/7 support to query any doubts that you have and the 'Help section. On the top you have the 'Messages, Friends, News and Settings and Buy Chips. On the right side you will have the 'Faces' and 'Leader Board on the other side you will have the 'Play Now', 'Select Table' and 'Sit & Go' buttons.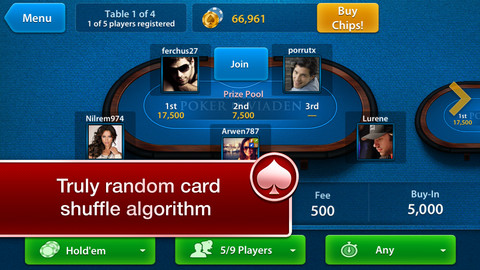 You can improve your poker playing skills with this game, without spending a penny. Through this app there are a big group of poker players in the Gamecenter who play 24/7. More over if you introduce your friends you will get reward for it. In this game you can create a profile for your self which you can customize. In this game many of the players play the game with care not loose.
So you might face more competition. The app is designed with a simple, attractive and easy to use interface. Eventhough it fetches details from its online server the reaction time is very fast. The developer's aim is to bring a lot of player into the game's network and they have achieved it.
Verdict
The look and feel, the game process, social media sharing options are a plus. But sometimes the app is unable to connect to the server, the font size in the help section is very small it could have been made little bigger. It deserves 4.6
Price: Free
Rating: 4.6