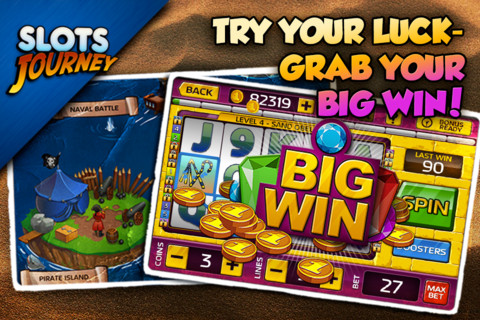 About The App
Slots Journey By FishSticks is game, where you need to match alphabets and symbols either horizontally or diagnolly. The more you match the more you score.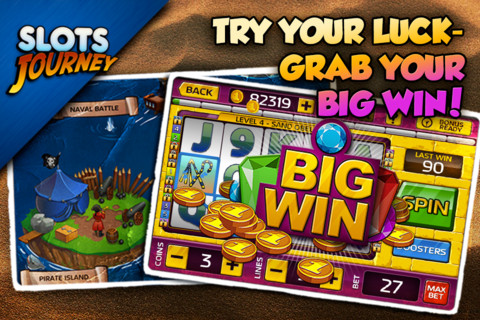 How Does It Work
When you open the game you land in Egypt, and thats where your game starts. There a five Sand Obelisks each represents a level. Once you complete Sand Obelisks you go to the Oasis which has four levels and Pharaoh's Tomb and then comes China, Islands,Greece,Transylvania,Australia. Based on the levels the the number of spins differs and after you touch that target you go to the next level. As you go to the levels  and  the bet amout increases.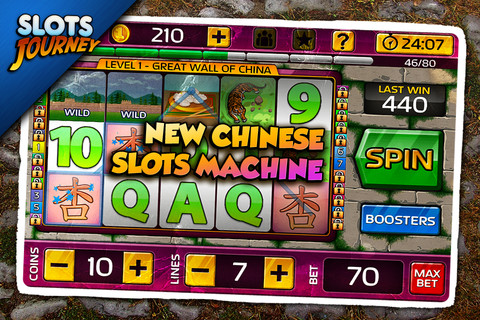 On the top of the slot machine you find the total number of coins you have earned so far, and in the bottom right is the number of coins you bet. On the right side of the slot machine is the spin button on pressing it you will play once, below the spin button lies the boosters button on pressing it you can get chances to spin even when you don't have any coins.
There are some unique wild cards and character cards that appear in the slot machine. These give you higher points when it replaces any symbol execpt scatter. The help section appears when you press the "?" button on the top, which explains the points details about each and every character and symbols. There are in-app purchase option for coins and boosters.
What Is Cool About The App ?
The graphics, user interface and social media connectivity and game center feature are cool.
Where Should They Improve ?
The help section shold contain much more detailed information about the game.
Verdict
If someone haven't played a casino styled game then this would be a great entertainer for them.
Price: Free
Rating: 4/ 5