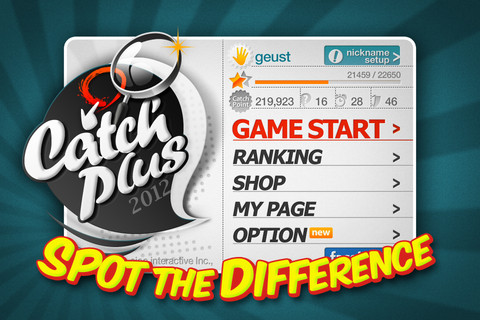 About The App
CatchPlus By Sloo Interactive Inc, is a games app. In which you need to find the difference between two photos, in three various modes.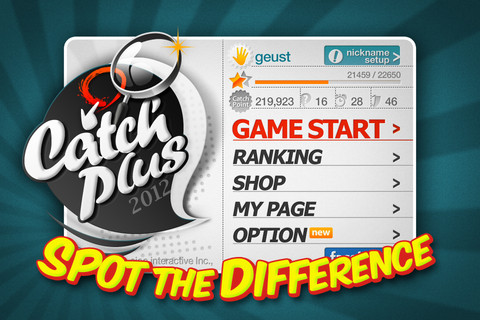 How To Play
In the opening screen there are five menu options, the 'Game Start','Ranking','Shop','My Page' and 'Option'. If you tap the 'Game Start' you will find the three game modes. The Classic mode – you need to clear as many levels you can in a limited time. Second is the speed mode – in which there are 10 stages and you need to win all the the levels as fast as you can. The third and final level is the Time Attack mode – in which you have only ninety seconds to get the top score by clearing as many levels as you can.
After you select any of the three levels you are taken into the game. Where you will be shown two images with four slight differences, which you need to spot out below the image you have the score, numbers and hints, timer, shield, and pause. As you tap on each of the differences it will be be marked by rounding it. When you complete the fourth difference then you complete a level. The Ranking menu you will find the ranking for all the levels of all the players playing the games for the past three days, will be displayed.
In the Shop menu you can buy hint, time and shield items if you have enough catch points. If you don't have enough catch points, then you can buy catch points also. In the My Page menu you will find two taps the My Info and My Gifts. In My Info you will find your name, gender and birthday information. In My Gifts tab you will find your gifts details if you have any. In the Option menu you have option to switch off/on the BGM and sound effect and the app other details about the app.
What Is Cool About The App ?
You can even upload your own photo to their Facebook page and they will convert it as a puzzle then you can play with it. There are weekly updates with new images and bonus deals.
Where Should They Improve ?
Nothing as of Now.
Verdict
The game is really addictive and challenging, it improves our concentration by looking for minute differences in the image. Both adults and kids will enjoy this game. This game deserves 5 out of 5.

Price: Free
Rating: 5/ 5