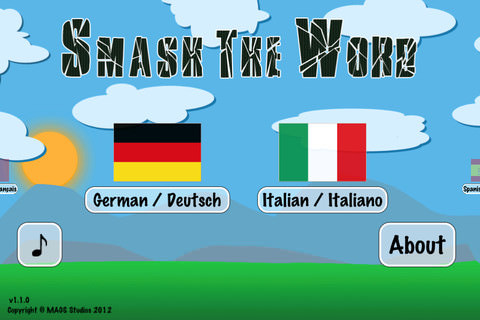 What Is The App All About ?
Smash The Word By MAGS Studios is a Multilingual language learning game app.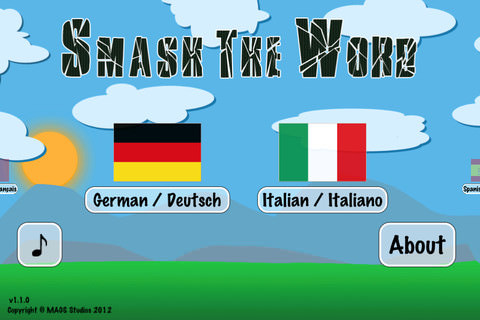 What Is So Unique About The App ?
You can learn French, Italian, Spanish, German and English with this app.


From the basics, you can learn the names of animals, colors, sports, months, seasons and days. Other than that there are many more that you can buy through in-app purchases.

Once you make an in-app purchase then the ads go away

The third level can be unlocked after you share it on the Facebook.



What Is The Gameplay ?
First you need to select the language you want to learn, by swiping left or right.

Then you will be taken to another menu, where you have to select the level which you want to play.

Then words come jumping from the right side of the screen and keep on getting bigger and bigger, if you don't do anything then the word smashes.

So as soon as you see a word double tap on it, then the word will rest on a sling shot.

Now you will see their translations on top of the screen, tap on the translated words, then the resting words will jump toward the one you tapped on.

It will turn green (correct) or red (wrong) based on your answer the moment you tapped on it.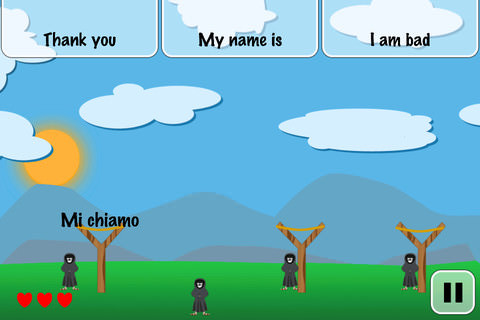 What Is So Cool About The App ?
I have seen many translation apps, but none was presented like a game, that is really cool.
Where Do They Need To Improve ?
This app only teaches words, with this you can't learn a language.

There is no score board like Game Center or Open Feint.
Comments
As it teaches the basic words of a language, it is suitable for kids.
Price: Free
Rating: 3.8/ 5