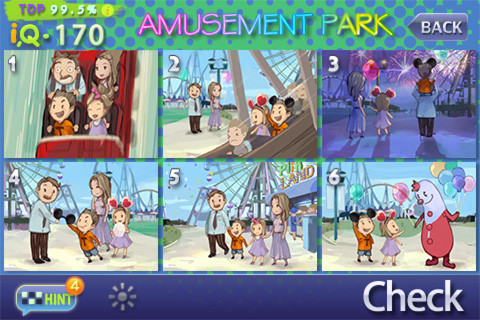 I sometimes search for apps when I am bored to death and in need of something fun and interesting. Recently, I came across 'Situation SHUFFLE', an engrossing app by IntStorm Studios that measures your IQ.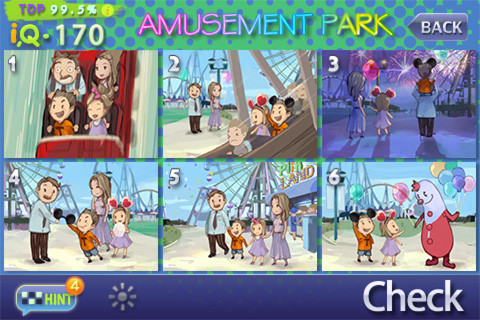 rel="nofollow>
This app really changed my opinion about other apps available in this genre. Playing this game is not a cake walk, you need to pay attention to details and this is what makes it exciting. The app is pretty simple to use. Each puzzle has six slides which tell a story and you've got to arrange them in the right order in which they happened. The opening screen comes with all major options like a tutorial, music options, credits and rating.
At first, when I went through the tutorial, I assumed I would be able to easily clear all levels in a jiffy, but I had to work hard to finish even the first IQ quiz. As and when you complete the quizzes, your scores get determined. Each quiz or puzzle comes with four hints and making use of them affects your score. There are also a few extra quizzes, but these are easy to crack. There are six shuffle quizzes which become available based on your score and to be honest, I was able to enjoy only two of them.
However, you really need to put in all your attention and focus on minute details in order to win the main IQ quiz itself. You are presented with a host of different situations like fishing, a day in the amusement park and many more real life situations. As I said earlier, you've got to arrange the slides in the right sequence and to get the maximum scores, you've got to do it without making use of the hints. Depending on your score, you are presented with gold, silver or bronze badges. The minute details in the slides meant to help you determine the right sequence, are revealed once you complete a quiz. This helps you in understanding the puzzles better.
This app not only tests your IQ, but also helps in improving your situation-based decision making skills. The extra quizzes improve your general knowledge as it has puzzles based on animals, sports, population, planets and many other topics.
I said this app was engrossing as I started playing Situation SHUFFLE at three in the evening and by the time I was done with it, it was six. Three hours passed by like a flash. This app will never let you sit bored. To be honest, even after quiting the app, I was still thinking about how to solve the quizzes that I couldn't finish.
Nothing is perfect in all aspects. Even though the app is fun to play with, there are some small drawbacks. If your iPhone gets locked while you are thinking of an answer for a quiz, on unlocking it you will find that the landscape mode (which is default in this app) will change to portrait mode where you can see only half of the screen. You can see it properly only after you quit the app completely and reopen it. Next is the tutorial section where you only have instructions for the IQ & extra quizzes and not the shuffle quizzes. There is no leaderboard and no social media integration like Facebook or Twitter to share your score with family and friends. Though there might be some demerits, Situation SHUFFLE stands out among other reasoning games.
Price: $0.99
Rating: 4.5/ 5

rel="nofollow>