There are many 2D iPhone games that are equally popular to 3D games, this proves people still loves playing 2D games in iPhone. So today I thought of reviewing a 2D game named Stick Golf, which I was playing an hour ago. Stick Golf is a super simple iPhone 2D game which puts you in the game for hours, believe you you will. The game has a simple user interface with two game difficulty game modes and 6 levels of play.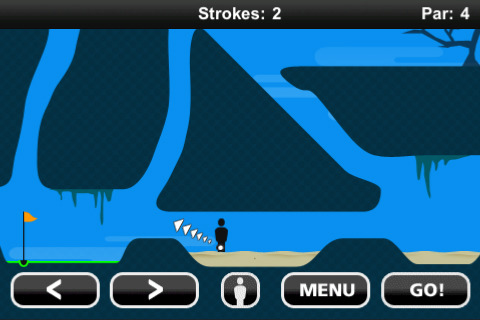 rel="nofollow>
How to play?
Stick Golf comes with a pictured based game instructions to play better. The best part about the UI are the right, left arrows and probably all the controls that are visible on the screen. So if you to hit the ball, position the ball using left, right arrows then tap on 'Go' and tap on it once again to hit the ball. For better powered shot allow the bar to be of full orange color.
rel="nofollow>
The screen view can be changed for better picture by dragging your finger and to reset the view you can use the human button to reset the view. Thanks to the developers for making a simple navigation
Gameplay
The game has two difficulty modes, so if you choose easy – you are gonna win in some hours, rather if you choose hard mode you are gonna have a tough time. There is not much difference between the easy and hard game mode except the hard wind that flows in all the directions. I enjoyed playing the game besides the hard wind and trust me its a great game to be played on your iPhone.
What I like
Excellent user interface (very easy to navigate)
People of any age can play this game
Real fun in almost all the levels
What I dislike
The game doesn't get saved when you get a call while playing. I hope the developers will work on this in their next update
Overall, a very nice game to played by all ages and you are gonna get addicted to the game.
Cost: $0.99
Rating: 4/5
Download from iTunes rel="nofollow>