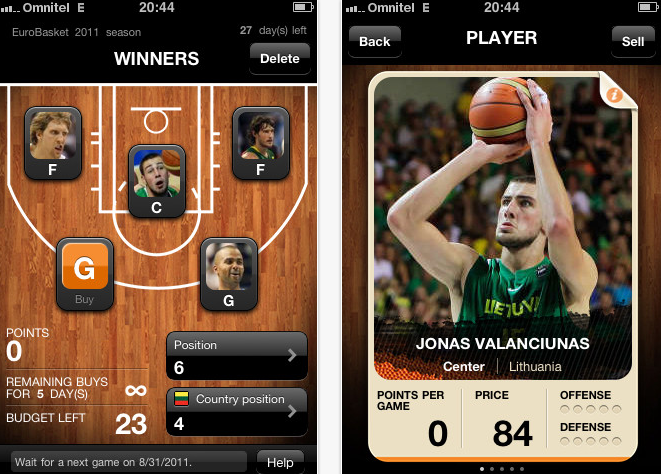 If you are basketball crazy,then EuroBasket 2011 Cards is for you. Wouldn't it be thrilling if you could have your own team and be able to buy and sell players of your choice? With this app, you can play basketball with your dream team and score points based on their live performances in the European Basketball Championship.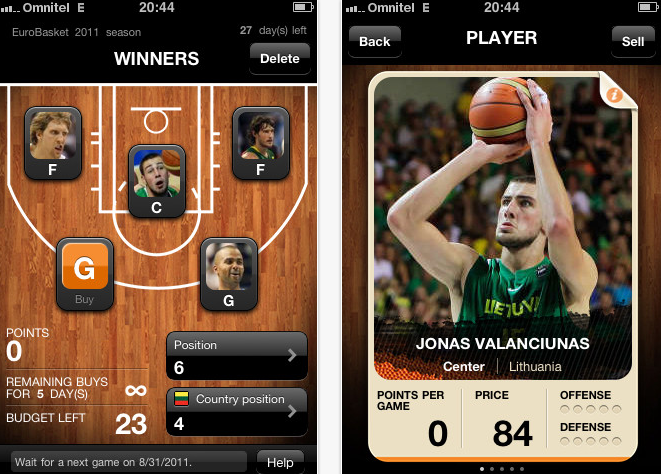 rel="nofollow>
EuroBasket 2011 Cards is the most interesting card game which I have ever played. All cards come with a photograph of the player and details such as the country he plays for, the points scored and when he will be playing his next game. First, you've got to select players and choose a unique name for your dream team. Using the game money, you can buy or sell players. Each player that you choose has a value. You've gotta make a team of the highest value.
The most exciting feature of this game is that, you will get points based on the players' actual performances in the Championship. So I had to continuously watch the game on TV while I tracked my score in the app. I have never seen or played such a game before and it was an enjoyable experience.
When my players' performance went down, I traded the cards and bought better players. And when they did well in their games, my team's position improved too. The game's UI is really user friendly and I was able to easily move to the next stages of the game.
It would have been better if the app had the option of sharing team scores in social media like Facebook and Twitter. On the whole, EuroBasket 2011 Cards has more than what we could generally expect from a free app. I would recommend this game to die-hard basketball fans.
Rate: Free
Rating: 3.5/5

rel="nofollow>