Generally we find adventure games more addictive. But it is not advisable to present one adventure game to your kid as they are mostly filled with violent animations and blood.
Recently, I found one game, that is really interesting, addictive and it has no violence or horror. It is Letterfall. This game was released only few weeks back and it is gaining popularity lately. Letterfall is all about thinking and acting fast and you should have good vocabulary to get more points. Let me review it.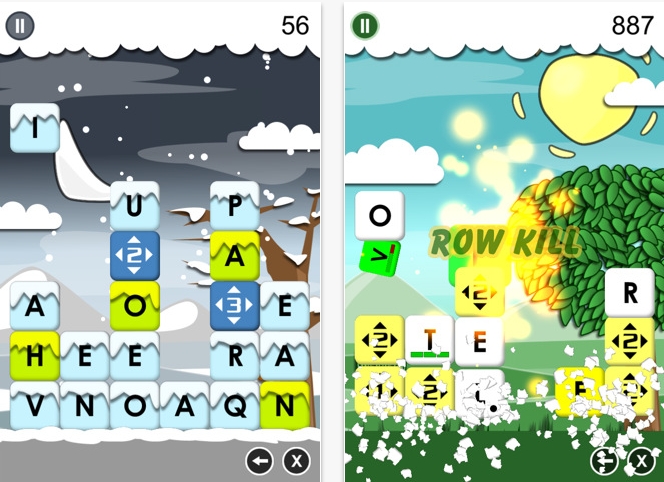 rel="nofollow>
In this game the player has to deal with falling tiles, which has letters in it. He/she has to make them disappear to get points. The player can achieve this by making words out of these letters. These words must contain at least 3 letters. To select a letter the player has to tap on it. The tile will change into another color. After selecting the final letter, the user must double tap it and if the word is acceptable the letters will disappear.
The yellow tiles are called "Bomb Tiles", and if the player uses it to make a word, he/she can blow one, two or three other tiles. There are also multi directional Bomb Tiles, which will blow tiles in multiple directions. Sounds easy? Wait, that's not all.  The speed of falling will get increased as the time progresses. There are also Multiple User Tiles and Blocker Tiles to make it bit more difficult.
This game will come to an end when one tile row reaches the top of the screen. Letterfall has four different background themes. This game is really tricky and can impress kids. It is compatible with iPhone, iPod Touch and iPad. It is available for $0.99 and so you can try this app to impress your kids.
Rating: 4/ 5

rel="nofollow>