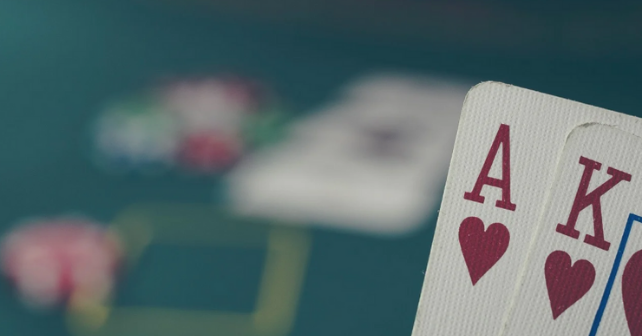 Poker makes for a crowded and busy category within the wider world of app gaming. That is to say, there are a ton of poker apps out there, and there seem to be new ones making their way into app stores all the time. And yet, most of these games seem to wind up feeling about the same. They're perfectly enjoyable, but there's very little innovation happening in the category.

This got us thinking about how poker apps could branch out — and really, how they ought to in the years to come.
Augmented Reality Gameplay

As of now, people associate AR mobile gaming largely with a few categories. There are real-world social games like Pokémon GO; there are tabletop puzzles and board games; and as covered in our look at AR Master Shooter years ago, there are action and shooter titles. But there's no reason that we shouldn't have a tremendous poker game in augmented reality either, particularly given that this whole category is expected to get a boost when AR glasses finally arrive as regular consumer products. Unfortunately, according to a recent update on CNBC, that might not happen until at least 2022. But once we do all have AR glasses we can use in gaming, it would be incredibly fun to be able to simply look at tables and see chips and cards changing hands.
Five-Card Draw

Five-card draw is by no means anything new. Furthermore, it is one of the most popular varieties of the game, and one that is featured in a lot of video poker games in casinos around the world. But where apps are concerned, there is a fairly significant focus on Texas Hold'em to the exclusion of other varieties. A new, well-developed, and well-advertised game focusing on five-card draw would be a treat, largely because this is a simple type of poker that would easily attract new players. Basically, this is a style of poker in which each player receives five cards, a betting round occurs, and then each player can exchange up to three cards in the hopes of bettering his or her hand. A second betting round then occurs before hands are revealed. It's about as easy as it gets.
Omaha

We like the idea of an Omaha game essentially for the same reasons we like five-card draw: It's a fairly popular variety that doesn't get enough attention in mobile games simply because Texas Hold'em is so dominant at this point. That said, Omaha is a little bit more complex than five-card draw, and in fact a little more like Hold'em. Per a post on Omaha rules, this variety involves each player being dealt four cards, as opposed to the two in Hold'em. Players can then use any two of those cards in conjunction with any three of the five community cards at the center of the table to form a hand. Frankly, it's a lot like Hold'em, and would likely appeal to the same players. But at this point, a little more Omaha would also add some much-needed variety to the mobile poker scene.

Career Modes

Career modes are largely responsible for making sports video games as wonderful as they are these days. New releases in major sports gaming franchises are now reviewed largely for how innovative their career options are, and a few years ago Polygon even wrote an "ode" to these same modes — framing them as invaluable forms of escapism for sports fans. The best career modes can indeed be wonderfully immersive, and yet they're surprisingly few and far between in poker. Yes, some games have made (somewhat lazy) attempts at embracing the idea. But the first app to really nail this concept and give players the sense that they're advancing through a pro poker career will be a hit.

Narrative Gaming

Finally, it would be a ton of fun to see a mobile poker game with narrative tie-ins. This is ultimately a very similar idea to that of implementing career modes, but perhaps with a bit more focus on story elements and a bit less on pure progression through a poker career. For instance, a game like this could start you off as a character down on his or her luck, and challenge you to improve your circumstances by way of winning poker tournaments, earning money, and making decisions that carry you along different narrative paths. It's a common gaming structure, but one that would be extremely fresh in the poker category.

As things stand, mobile poker games are perfectly enjoyable for the most part. But these relatively simple changes and additions would revitalize poker gaming and deliver a lot of great experiences.