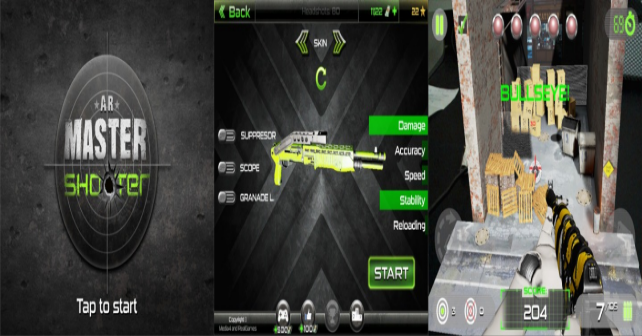 Games that focus on augmented reality are all the rage nowadays not only because of the completely new experience that it offers but also for the relatively better way in which it immerses players into the game. Undoubtedly, first-person shooters are one of the best platforms to apply the said technology; a fact and opportunity which AR Master Shooter apparently jumped on. And once you've given it a try, you'll certainly agree that the game shows plenty of promise.
Media 4, its developer. probably had one goal in mind when they created AR Master Shooter, and it's to put you, the gamer, in the shoes of the actual shooter_ This is because in this game, you are the one who does most of the action (e.g. aiming, drawing, shooting, etc.), and you have your immediate surroundings as the actual gaming environment. As in most traditional mobile shooting games, though, all your efforts and progress would be rewarded with credits and an increase in rank
There are a couple of important steps that you need to do to get the game to run smoothly, though. For one, you have to print out the game's special marker and aim the crosshair directly on it in order to sync the game completely with your environment. The developers advise that you place the printed marker on a flat surface to do this properly.
Once you start a playthrough, you will find that the targets within the game take the form of the standard bull's eye or criminals that you often see in target practice. There are holding hostages as well. so you better take extra care in aiming and shooting_ Each level has a specific objective for you to finish, and of course, you can only expect them to become harder as you progress. You also have to remember that you will be doing all this within your immediate environment.
The game's progression involves finishing and unlocking consecutive levels. In each level, there are only a number of guns available for use. You can use your available credits to unlock new skins for the said weapons, most of which have high-definition graphics and are intricately and realistically designed
AR Master Shooter is definitely one of the pioneers of augmented reality FPS games. There are not a lot of games out there that exhibit such a defining aspect, though, which is why it could be difficult to compare to other FPS games at present. It does have a close link to the revolutionary FPS multiplayer game Father.ior though. but AR Master Shooter still lacks the said multiplayer aspect. If anything, it does provide a great view of what it AR FPS would be like in a single-player oriented game. And since it's still a game that is in development within an equally new field of gamingg, its potential is practically limitless.
Price: Free