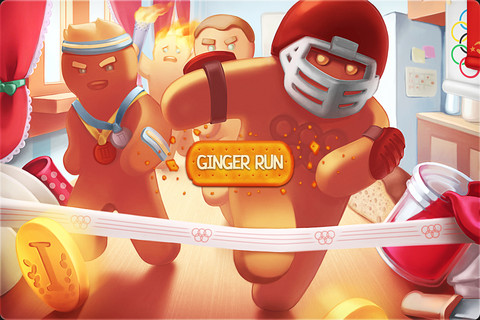 What Is The App All About ?
Ginger Run By Oleg Kapitonov is a game app in which you need to guide a ginger bread man in your kitchen to victory.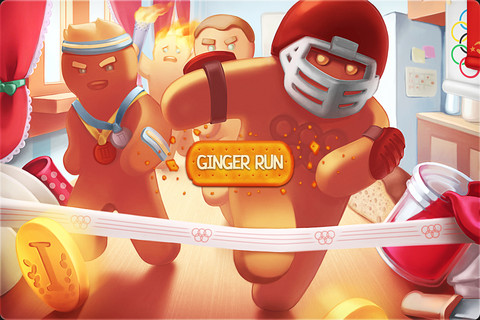 How Does It Work ?
In the opening screen you have the setup where you can see the various bonus and boost.

You can also see your various achievements by pulling down the ribbon that's hanging down from the top.

There is a small TV like icon hanging from above that displays the podium.

You need to help the ginger bread man to run as fast as he can.

You can do so by controlling his movements with the left and right buttons in sync, sometimes you need to swipe to jump.

There will be a little exclamation mark that tell us when you need to jump.

You will also have competitors in your race whom you have to overtake.

When you achieve a new record you will be intimated which you can share in social networks, like Twitter and Facebook and also challenge our friends or just keep going or purchase some items which will enhance your power to win.

Using some purchases like sprinter road you can remove all the obstacle in our way and run as fast as we can.

Once you get a bonus, that will help you in the next level.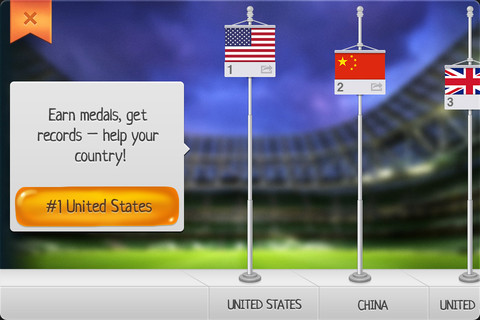 What Is Cool About The App ?
A cool concept of using ginger bread & and playing for various countries which is more interesting.

The user interface, menu options are uniquely designed.

Graphics is excellent.
Where Should They Improve ?
Nothing as of now
Comments
From kids to adults everyone will enjoy this app.
Update: The game is updated with a new interface with added missions and fixed controls that are more comfortable for users
Price: Free
Rating: 4/ 5