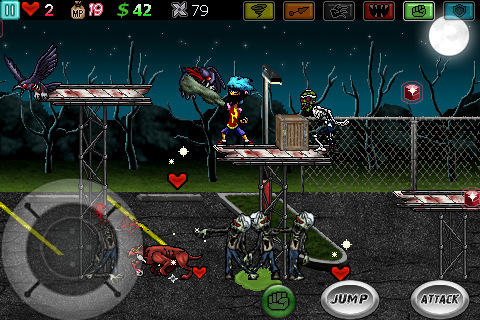 I have played lots of action games from the app store, where ghosts and zombies are the opponents and killing them to reach the target ends the game. Here is yet another zombie killing game with some great anecdotes behind it.
Ghost Ninja is not much into the exciting level in the series but keeps good on the graphics and game play levels with lots of added features. So here is the story behind the game in short, a girl Amber who is just trapped by some zombies and kidnapped, and Mark the hero of this game has to survive all the dangerous zombies and their vivid attacks on the way to escape Amber. Mark gets the support and fighting ideas from a man from Japan who gives ideas about the ninja attacks to Mark. So the end? Of course Mark has to go a long journey beating up all the zombies and get back Amber!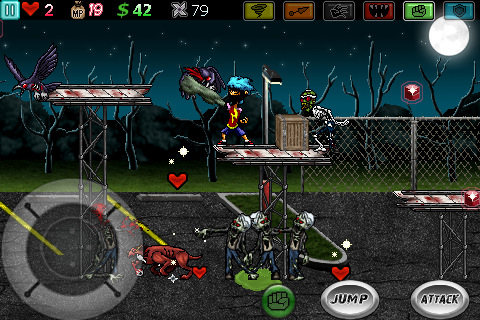 rel="nofollow>
The game comes with 3 difficulty modes: Normal, Hard and Beatdown. There is a total of 8 levels with 3 different difficulty modes giving currently 24 levels of different game play and once you complete the Beatdown difficulty you will unlock Cheat Mode. What I feel very nice on the game is the game play back ground music that gave a real Ninja effect. You can pick up items like magic box, health up, magic point item, cash item, 20 ninja stars item, etc. Picking any of the above will benefit you on the journey by giving the extra life, magical abilities and more.
The game play is good, but it would be really great if the objects came little more closer to the screen, which will give the player a better gaming experience. Also there is a leaderboard  on the main menu, in which scores are posted at the end of a level. It has level's score and total score that is posted in it.
I see Mark is calling someone if we didn't play the game for a bit, and I don't know to whom actually that call goes 🙂 Use the available boosters properly to survive the zombies and get back Amber. Totally the game looks good with some points to be noted as I said before. Ghost Ninja: Zombie Beatdown is available in the app store for a cheap price and if you are a game freak I can suggest this game can take some of your time.
Price: $2.99
Rating: 4/5

rel="nofollow>