About The App
Smile+Smile by Hooligans Entertainment is a game app, in which you need to guide a male smiley to his girl friend and collect the hearts in his way.
How To Play ?
This is basically a physics based game, where there are two characters. One is a male smiley and the other one is a female smiley. All you need to do is to join them both and collect the hearts in the way of the male smiley. Sounds easy isn't it ? But its not that easy when you play.
As it is a physics based game the law of gravity work here. Lets say if the female smiley is placed in the middle or bottom and the hearts are scattered all over the screen. Then you need to place the other square or triangular smileys in the male smileys way to make it bonce off and get the hearts and then reach the female smiley.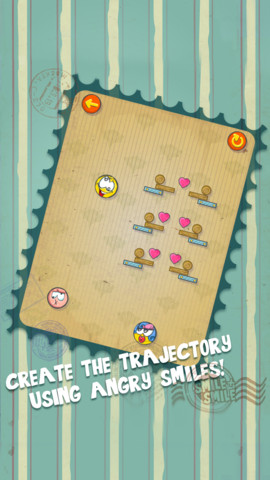 Other than the square and triangular smileys there are other blocking objects like wood and iron. The square and triangular smileys can be used only for one bounce but the other objects can be used more than once. You need to very careful while placing the objects, because if you do not place them properly the smiley will bounce out of the screen and you will loose the game.
What Is Cool About The App ?
The whole idea of the game is really cool.
Where Should They Improve ?
They should have given a descriptive help for kids.
Verdict
A unique and cool game that will keep the kids engaged in this holiday season. I enjoyed it a lot, I hope all will like it.
Price: Free
Rating: 4/ 5