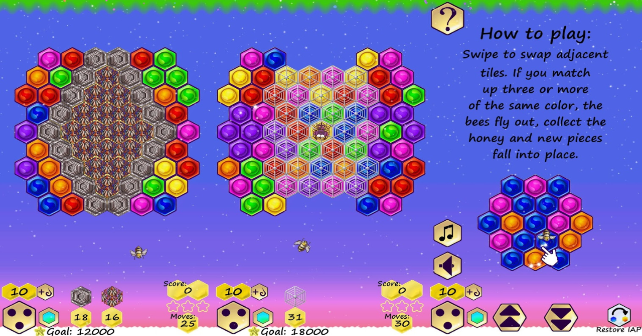 Bumble Born Bee is probably the first physics tile game to have been developed. Coming with a range of power-ups, obstacles, game modes, and enemy bosses, this game is created in a familiar format with innovative and mind-bending mechanics, puzzles, obstacles, and challenges that will keep you occupied for hours. In this amazing game, you can put your skills to tests by solving mind-boggling puzzles that will keep your mind racing with a lot of challenges. The amazing thing about this game is that it's free.
Download it and play it so as to discover the innovative and challenging puzzles that will require all your mental effort to solve. In this game, you can solve, guess, unlock, play, swap, and score. You can actually engage all your mental capacity with Bumble Born Bee.
How it works
 You are required to pass multiple obstacles before you can be able to reach the nectar. From unfriendly honeycombs to spider webs to crystals to wooden blocks, you must complete all these.

 You need to help the bees collect nectar as it falls from above while using special moves to get rid of spiders, beetles, and other bugs that might try to interfere with the process.

 It has a full physics based system to make sure that you cannot guess where the tiles will land hence you must just work your head out.
Features
 With unique swipe mechanics, you can move to any direction that you want.

 If there are no possible move it allows you to have instant reshuffling of the whole board.

 You can pack a punch with 6 power-ups including lighting, bombs and a swarm of bees. Just with a tap of your finger you can also superpower it.

 When you pass level 24 it offers space levels.

 If you are stuck, it has a suggestion system that will provide you with the moves to get back to track

 It allows you to unlock the mysteries in space and get a reward in terms of battle against beetle, special gems, and bosses that will help you keep the bees from the honey.
What makes it stands out
This physics tile game will provide you with endless fun using innovative items such as Honey Hammer and more to help you get every drop of nectar. To make it more fun and challenging it has thousands of scoreboards for each level to keep you working more after you have achieved 3 stars. It also has many game options with 214 modes that can be linked to any level. Download this amazing game tile and enjoy a unique fun gameplay.
Price: Free