Thinking about spending some good time with your kids? Then I have one interesting iPhone game to suggest you.
Bleep Game helps players to think, act fast, interact etc., It is a word guessing game. If you have 3 people to accompany you, this game would be good choice to kill time. Users have to separate themselves as two teams to play it. This game has three modes – Free Play, Rapid Fire and High Score. In Free Play users can set a time limit for a round. They can choose among 60 seconds, 90 seconds and 2 minutes.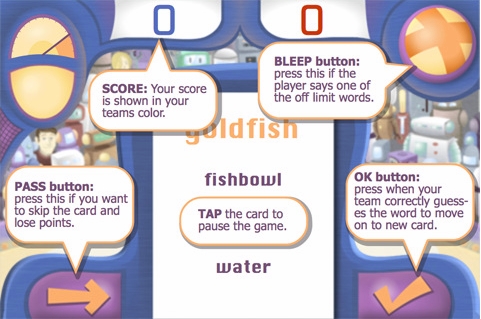 rel="nofollow>
In the Rapid Fire mode, every team has to play for 30 seconds. They can choose a score among 20, 30 or 40 points to achieve. In the High Score mode they have the choice of setting the timer and choosing a score. On the top left corner there is a timer to show the players, how much time is left in a round. They get a word card in the middle with a word, that a player should get his team to guess. Below this word, five off limit words will be given. The player should not use this off limit words.
One point will be awarded for a correctly guessed word. One point will be deducted for every passed word and for every off limit word used. Players will also get random double points cards to give them two points. I tried this game with my friends and it is really a fun to play. I suggest Bleep Game if you have kids at home.
At present more than 2000 words are loaded in Bleep Game. So the possibility of repetition is very slim. This game is compatible with iPhone, iPod Touch and iPad. It is available in the App Store for $0.99

Rating: 4/ 5

rel="nofollow>