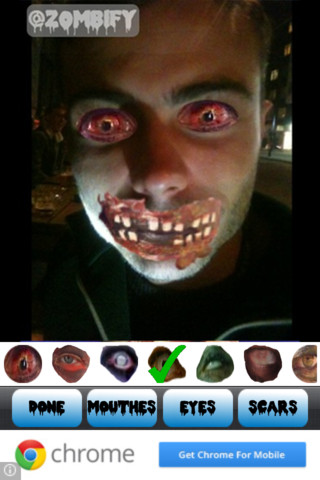 About The App
Zombiefy is released by Ben Smith Inc for this Halloween. This entertainment app turns you into a Zombie. Have you ever thought of becoming a zombie ? If not then this app will make you into a zombie.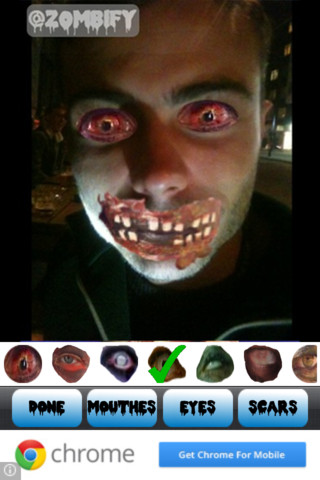 How Does It Turn You Into A Zombie
When you tap open Zombiefy app, you get a splash screen then you find the welcome screen that says 'Zombiefy Yourself'. Below that you have the ' I ' – the help section, that clearly explains how to zombiefy yourself using the app.

Next you have the Camera icon, on tapping that you will find two options. One is to choose an existing photo and the other is to take a photo of a person.

If you 'choose an existing photo' from the camera roll it should be a close up shot of person's face, then only you get the exact zombie effect on that photo.

The second option is the 'take a photo' option using which you to take a photo with the iPhone's built in camera. You can use both the front and back camera for this app. When using the camera you will find a outline of a head, so that  you will find it easier to cover the person's face into that area while taking the photo.

After taking the picture you can view the preview, retake another shot or use it to zombiefy that face.

After it zombiefies your picture, you can alter your eyes, mouth, the scar in the head and save it in the camera roll, and share it via Email, Twitter and Facebook.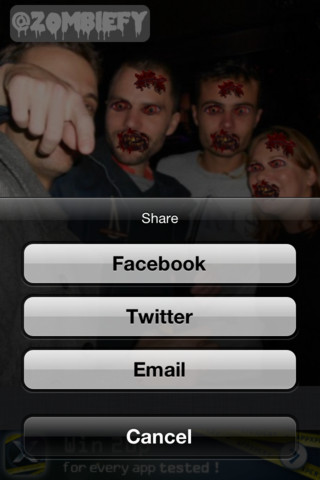 What Is Cool About This App ?
The zombie effect changes on the eyes, mouth are amazing and it is realistic.
Where Should They Improve ?
The help section should have been given in bold letters like "Help" instead of just 'I'
Verdict
I enjoyed this app along with my friends for this Halloween, The zombie effect is really good.
Rating: 4/ 5
Price: Free