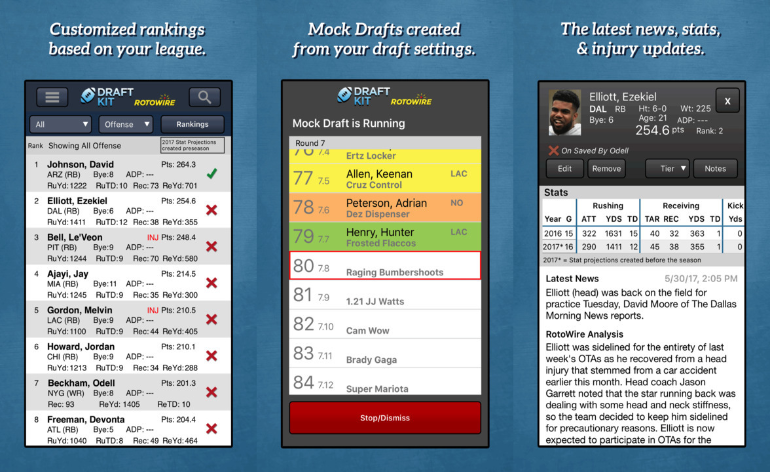 If there is one factor that determines the immediate success of fantasy football drafts, it's about willing to do the necessary research and tracking of events in real time What could be more valuable then, than an app that could do all that for you? One good example of such an app is the Rotowire Fantasy Football Draft Kit 2017.
Users would be supplied with a cheat sheet that is made by experts, and it ranks the players automatically based on projected stats. It also takes into consideration the settings of the league of your choice. It may be a little intimidating to use the app as a beginner, but upon closer attention to instructions, you'll see that the app isn't that hard to use at all.
The app offers the most up-to-date happenings in sports as well as recent news and analysis of players. With the help of filters, you'll be able to narrow down the exact data that you want to get or make notes and mark players based on your analysis. Even information regarding teams would be displayed in charts. You are given the ability to manually rank the players based on your preference.
Indeed, the easy navigation is well worth praising. This alone gives the app that much sought after convenience in fantasy football drafts. You would also be able to find the exact player that you are looking for using the simple search function. Nonetheless, what really makes the app stand apart is its inclusion of an advanced artificial intelligence that is able to help you conduct your own mock drafts, which have the ability to react to every decision that you make.
Other information you can receive are projected standings in your league, stats of each player from last three seasons, access to articles written by experts from RotoWire, and more detailed information (like current defensive rankings). The app even supports downloading of the data that you've gathered, so you won't have to connect to the Internet every time just to view them.
As said above and apparent from its features, RotoWire Fantasy Football Draft Kit 2017 really shines with not only the comprehensive host of features that it has incorporated but also its unprecedented use of really smart AI that could very well predict the results of an actual draft. The fact that the app is able to deliver cheat sheets that are specifically based on a chosen league's settings is praiseworthy enough as it is Paired with the features said above, you pretty much have a tool that lets you sit back and enjoy making draft decisions with zero hassles whatsoever.
Price: $4.99